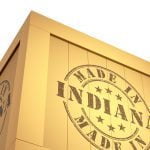 Several businesses across Northern Indiana have received a share of $3 million in state grants designed to encourage manufacturers to invest in their operations to drive growth.
The Indiana Economic Development Corp., in partnership with Conexus Indiana, recently announced its latest round of Manufacturing Readiness Grants to 31 Indiana businesses. The grants are part of the Economic Activity Stabilization and Enhancement Program designed to stimulate manufacturing investments across the state.
"It's truly incredible to see manufacturers across the state of Indiana rise to the unprecedented challenges of this year," said Indiana Secretary of Commerce Jim Schellinger. "The response we continue to see from the Manufacturing Readiness Grant program is remarkable, and I'm am encouraged by the progress we've seen in getting these businesses back on track."
The latest recipients represent 21 Indiana counties and cover a wide range of specialties, including automotive, aerospace and defense, agriculture, machinery and construction, consumer packaging products, and health care and medical. The IEDC said the companies' combined will invest more than $19.3 million in technology and equipment to modernize and increasing capacity.
Recipients from Northern Indiana include:
Entech Inc. (Elkhart County; $100,000 grant award) based in Middlebury since 1995, specializes in producing micronized rubber powder and crumb rubber. The company is modernizing its existing manufacturing facility and installing new equipment for product expansion.
Jomar Machining & Fabricating (Elkhart County; $100,000 grant award), founded in 1991 in Middlebury, specializes in large machining and fabrication projects and is investing in a
robotic welding system.
Premium Rock LLC (Elkhart County; $50,000 grant award) based in Elkhart, produces lightweight, highly durable, fire-resistant, waterproof and UV-resistant engineered stone panels. The company, which plans to begin increasing its workforce, is launching a new proprietary product, and investing in a new process and needed manufacturing equipment.
Standard Integrated Solutions Inc. (Pulaski County; $50,000 grant award), based in Winamac and founded in 2004, offers a full line of industrial equipment, supplies, services and products essential to the industrial environment. The company is investing in cobots to tend Computer Numerical Control mill and press brakes.
Tri-Pac Inc. (St. Joseph County; $100,000 grant award) based in South Bend, provides contract development and manufacturing services for aerosol, liquid, tubes, and specialty-packaged products. The company is adding manufacturing lines to increase capacity and expand capabilities to manufacture prescription medical devices and over-the-counter drugs.
Other recipients include:
American Quality Molds, Wayne County; $53,500 grant award
Arcamed LLC, Marion County; $150,000 grant award
Barber Manufacturing Co. Inc., Madison County; $100,000 grant award
Catalyst Product Development Inc., Marion County, $159,500 grant award
Decatur Mold, Tool and Engineering Inc., Jennings County; $65,000 grant award
Decatur Plastic Products LLC, Jennings County; $98,000 grant award
EARL Solutions LLC, Jackson County; $100,000 grant award
Eckhart & Co. Inc., Marion County, $6,000 grant award
Georg Utz Inc., Bartholomew County; $50,000 grant award
Global Plastics Inc., Boone County; $100,000 grant award
Helmer Scientific LLC, Hamilton County; $200,000 grant award
Hightech Signs, Allen County; $130,000 grant award
Huhtamaki, Grant County; $10,000 grant award
Italpollina USA Inc., Madison County; $116,677 grant award
Jeco Plastic Products LLC, Hendricks County; $72,000 grant award
Kimura Foundry America, Shelby County; $38,000 grant award
Kirby Risk Corp., Tippecanoe County; $78,750 grant award
Mid-West Metal Products Co. Inc., Delaware County; $22,400 grant award
Myers Spring Company Inc., Cass County; $70,000 grant award
NASCO Industries Inc., Daviess County; $100,000 grant award
Nutrition 101 Inc., Madison County; $100,000 grant award
Perfecto Tool and Engineering Co. Inc., Madison County; $113,500 grant award
Recovery Force Health LLC, Hamilton County; $157,500 grant award
Semiconductor Test Supply LLC, Morgan County; $47,720 grant award
TBK America Corp., Wayne County; $89,444 grant award
Trinity Guardion LLC, Ripley County; $200,000 grant award
The state awarded nearly $2 million in grants through the program in August, which was split among 20 businesses across the state. Custom Cut Door LLC in Elkhart received a $37,500 grant and Indiana Face Mask, a recently launched business in Rensselaer, received a $161,769 grant.