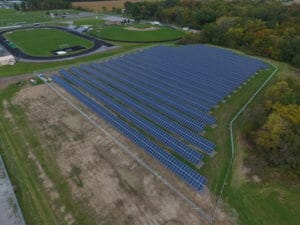 Business partners with South Bend-based solar energy development firm Inovateus Solar have taken another step to expand use of green energy.
Inovateus Solar said Middleburg Capital Development and LogiKan Group, have launched Brilliant Capital, a solar project financing venture. Middleburg purchased an equity stake in Inovateus Solar in July.
Brilliant Capital will serve dual roles as system owner and operator as well as providing development capital for early and mid-stage solar projects, Inovateus said in a statement.
"Finding the right solar financing partner can be a huge and cumbersome bottleneck that can delay projects from commencing construction," said TJ Kanczuzewski, CEO of Inovateus Solar. "By giving Inovateus clients easy access to Brilliant Capital's project financing, we can speed up the development and due diligence processes and begin installing much sooner and at a lower cost."
Brilliant Capital's leadership team includes representatives with expertise in energy, finance, and the public service sectors. The group is led by Timothy and David Sutherland of MCD–and former leadership of Pace Global Energy Services; Kanczuzewski of Inovateus Solar; Ashley Brickley of LogiKan Group; and former Indiana Senator Joseph Donnelly.
Christopher Malkar, who will serve as president of Brilliant Capital, previously worked for Chesapeake Utilities, BP Solar, and Pace Global Energy Services.
Brilliant Capital's principals have invested in numerous solar projects which are now operational. Currently, the company has 1,500 MW under development.