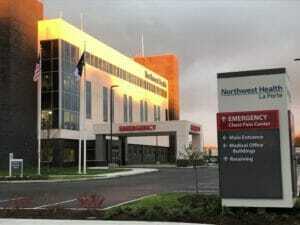 A little more than two years after a ceremonial groundbreaking, the new $125 million hospital in La Porte opened its doors to patients Oct. 24.
For a short time Oct. 24, the old hospital site at 1007 Lincolnway, which operated under the name La Porte Hospital, and the new facility – Northwest Health – La Porte at 1331 State St., were both open as staff worked to transfer patients to the new hospital.
Temporary command centers were set up in each hospital, as staff electronically tracked each patient move. Beginning at 6 a.m. Oct. 24, 12 ambulances from several different agencies transported 64 patients, including two newborns, according to hospital officials.
"We used one ambulance per patient," said Ashley Dickinson, CEO of Northwest Health – La Porte and Northwest Health – Starke. The Indiana Department of Transportation also assisted in the move between hospitals, which now operates under the new umbrella name Northwest Health.
"We used paramedics in life-support ambulances to make sure everything that could be mitigated was," Dickinson said.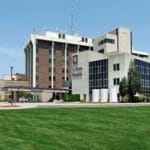 Planning the move took more than year. Officials have not determined what will happen to the old hospital, which could be torn down if another use is not found.
"We are so pleased to give our community the gift of a new state-of-the-art hospital," Dickinson said. "Our new hospital is set to provide the compassionate care we've become known for with the addition of all brand new technology and equipment for best practice patient care."
The four story, 200,000-square foot hospital with all private patient rooms is a block away from the former La Porte Hospital. The main entrance features a two-story lobby with guides to direct patients and visitors to the most frequently used healthcare services while registration areas, also in the lobby, are designed to ensure patient privacy.
Patients and visitors also have access to complimentary valet parking. The new hospital also has two dining options the Garden Café on the first floor and The Gathering Café & Bakery on the second floor.
Next year, Northwest Health – La Porte will open a new medical office building now under construction and will be attached to the hospital. The 55,000 square-foot, three-story building will house physicians' offices as well as the infusion center, sleep lab and wound care.
Dickinson said during the planning phase for the new hospital, staff worked with designers to fine-tune floor plans to ensure the new facility would emphasize convenience and comfort for patients as well as care.
"Northwest Health – La Porte will provide a high level of clinical efficiency, advanced technology and patient convenience," she said.
Privacy is important to patients, Dickinson said. The hospital's private patient rooms support patient healing and family involvement and includes a private bathroom and shower, a large picture window, flat screen TV, internet access, room-by-room temperature control and a recliner.
Some of the new technology in hospital includes electronic information boards in each room, which are linked to patients' medical records, allowing them to see their care plan at all times and also see photos of their care givers.
To improve care efficiencies, the new hospital also features multiple nursing stations on each level and separate observation/documentation stations in the Intensive Care Unit. This means patients are closer to their caregivers, and caregivers are closer to the supplies, equipment and resources needed to expedite care, hospital officials said.
New patients were accepted at Northwest Health – La Porte at 6 a.m. Oct. 24.
"We have a new name, a new logo, new patient-centered design, new technology, equipment, new jobs and, most importantly, we are part of an entirely new healthcare system for the region – Northwest Health," Dickinson said. "We are a regional system, which means our patients can remain here in Northwest Indiana, getting nearly all of the care they need close to home."