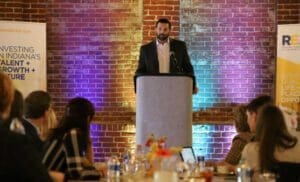 When Gov. Eric Holcomb presented his agenda earlier this month, not everyone was on board.
In particular, some Democrats questioned new dollars for the Indiana Economic Development Corp., a quasi-public agency that isn't beholden to the same public reporting and transparency rules as other government agencies.
"We just continue to give them a blank check … to me, there isn't any accountability," Rep. Greg Porter, D-Indianapolis, said during the presentation. "I don't mind us investing in the economy; I don't mind us trying to create jobs. But what are the results of that money?"
But Republicans, who had issues with other parts of Holcomb's agenda, didn't share those reservations.
"You've got to have opportunities for these kids to stay and those investments … that's what provides opportunities for the jobs for these kids to finish school and stay here," Sen. Ryan Mishler, R-Mishawaka, said.
Stakeholders in the business community say these expenditures are necessary to keep Indiana competitive in the national job market, especially as Indiana pivots from manufacturing to the "economy of the future." Those industries — electric vehicles, semiconductors, agricultural technology — will need incentives to come to the Hoosier state.
Previous years of investments
In the 2022 legislative session, the General Assembly approved Senate Bill 361, which "modernized" the agency's toolkit by dictating its requirements for local involvement and expanded tax credits.
For IEDC Chief Operating Officer and Chief of Staff David Rosenberg, that legislation allowed the quasi-public entity to secure record investments across the state.
"The tools that the legislature passed and approved for us in 2022 are really the framework as we move into 2023 and truly shows how that funding will be used and allocated moving forward," Rosenberg said.
In 2022, the entity reported more than $22 billion in capital investments from companies, a 260% increase from the previous year. The 24,059 new jobs had an hourly wage of $34.71, almost $10 higher than the state average of $25.12.
Rosenberg argued that the funding suggested in the governor's 2023 budget is more transparent by specifying funds and their uses.
"We know these tools work; the market is comfortable with these tools, and so it's time to double down on them and replenish them to make sure we're being responsive to the needs of the market," Rosenberg said.
The biggest deal of the year was Eli Lilly's $2 billion investment in a Boone County LEAP innovation district — which faces opposition from some local landowners worried the project will swallow up the region's farmland. Most recently, some residents filed a legal complaint seeking to stop the annexation or property incorporated into the district.
The state has been heavily involved with purchasing land for the project and appears to want to continue that trend in future development, asking the legislature for another $150 million to seed a revolving Site Acquisition Fund.
In committee, some lawmakers questioned what a $300 million Deal Closing Fund could pay for that other monies couldn't. Rosenberg said those expenditures, otherwise known as cash performance grants, were critical to securing $6 billion in investments in 2022.
Similar to a tax credit, a company that meets certain goals receives an award. Similarly, Illinois' legislature approved a $400 million deal closing fund earlier this week in the hopes of attracting electric vehicle manufacturers. In an interview, Illinois' Gov. J.B. Pritzker specifically cited Indiana as a state getting those companies because of its fund.
"Other states are making these investments as well. It's one of those things where the competition is seeing what has worked for us and is trying to copy it," Rosenberg said.
A separate IEDC fund, the proposed $150 million Strategic Sites and Infrastructure Fund, pays for upgrades to sites, such as rezoning or building utility connections.
"Company deals used to take two or three years to get done. Now, companies are making decisions in a year or less," Rosenberg said. "They're looking for land (that's ready) … so they know that when they invest their multibillion-dollar capital investment, that they're going to be able to start operations sooner and not have to wait."
Funding another round of READI
The COVID-19 pandemic brought an unprecedented rush of federal funding to the state, a portion of which the state earmarked for regional economic development collaborations.
That $500-million fund through the Regional Economic Acceleration and Development Initiative (READI) proved popular with entities across the state, with IEDC processing $1.5 billion in requests across 800 projects.
Regional awardees, like the South Central Indiana Talent Region, allocate their funding to improve the community's quality of life — such as a $6 million grant to redevelop a mostly vacant, 400,000-square-foot mall into a health, wellness, sports and fitness facility.
But dispersing the funds is slow, mostly due to requirements for reimbursement from the federal government. Holcomb proposed creating a second fund with all state dollars, citing the rejected entries from the previous round.
Rosenberg said the initial round of funding would be dispersed over the next few years as projects developed. So far, $460 million of the $500 million has been obligated for specific projects by the IEDC.
"That $460 million … has leveraged about $7 billion in investments in all 17 regions; a huge return on state investment," Rosenberg said. "Making that investment now will be critical as we're competing for workforce and talent of the future."
Quality of life and workforce development have been big concerns for the Indiana Chamber of Commerce, which noted that the lack of childcare and low number of Hoosiers with degrees hurt businesses. Rosenberg said more strategic partnerships with local educational institutions could remedy those concerns.
Rosenberg highlighted the LEAP Innovation district partnership with Purdue University or Ivy Tech Community College's Kokomo campus working to train employees for Stellantis' and Samsung lithium-ion battery plant as examples.
"You've seen not only companies and residents flocking from states like Illinois, but you have seen an incredible movement from the coasts to the Midwest and mid-Atlantic states," Rosenberg said. "Because companies and residents are making decisions to live in a place where you have stability and can actually afford a house with a lawn."
This story was originally published on Indiana Capital Chronicle's website. Follow Indiana Capital Chronicle's statehouse news on Facebook and Twitter.