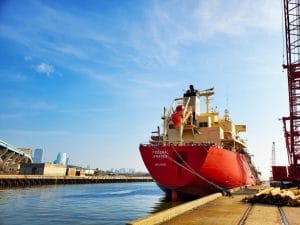 Year-to-date shipping on the Great Lakes through June is down when compared to the same period in 2021.
The Great Lakes Seaway Partnership reported fewer transits on the Great Lakes system for the year through June when compared to the same time a year ago. A total of 244 transits were logged through June, down 9.96% from 271 through the same time in 2021.
Total cargo also is down. A total of 4,243,000 metric tons of cargo passed through the system through June, down 11.95% from 4,819,000 recorded through the same time last year.
For the month of June, the system moved 414,000 metric tons of grain, which was a 37% increase from June 2021. Dry bulk cargo shipments were also up compared to last year, an increase led by potash, which saw a 282% increase compared to last June, pig iron up 106% compared to last June, and scrap metal, up 102% from last June.
"June proved to be another steady and productive month for U.S. ports on the Great Lakes St. Lawrence Seaway System," said Craig Middlebrook, deputy administrator, Great Lakes St. Lawrence Seaway Development Corp. "Despite a number of global issues out of our control, shipping on the Great Lakes remains reliable and resilient."
It's estimated that U.S. Great Lakes ports traded with at least 26 countries throughout June, up from 22 in May. The Port of Indiana – Burns Harbor is part of the Great Lakes system.
Port Milwaukee was productive during June, bringing in both brewery and steel shipments from Europe.
Port Milwaukee recently welcomed 13 brewing tanks from Germany that will be used for local beermaking and storage, said Adam Tindall-Schlicht, director of Port Milwaukee.
During a time of rising global energy costs, the Port of Green Bay reported a strong month for coal imports. In June, Green Bay's docks unloaded 47,679 tonnes of coal, a 180% increase from June 2021 and saw a 16% overall domestic cargo import year-to-date increase.