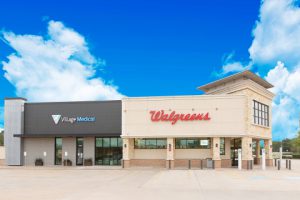 The Walgreens Boots Alliance and VillageMD plans to open new Village Medical sites at Walgreens locations in northern Indiana including South Bend, Portage, Merrillville and this year.
The move is part of an overall goal to open 600 Village Medical locations at Walgreens stores in more than 30 U.S. markets over the next four years, with plans to open hundreds more. The expansion is part of a $1 billion accelerated investment effort announced in January to deliver healthcare to patients with Village Medical primary care physicians and Walgreens pharmacy services through a coordinated care delivery model.
Representatives for each organization say by leveraging physicians and pharmacists under one roof, patients benefit from improved health outcomes and lowered cost of care.
"We're excited to open new Village Medical at Walgreens locations in northern Indiana," said Dr. Brent Asplin, president of Village Medical. VillageMD will soon open a location in Griffith and currently has a clinic at Walgreens in Merrillville along with Village Medical practices in Indianapolis and Kokomo.
He said the goal is to deliver improved health outcomes and affordable care for more patients in northern Indiana.
Village Medical at Walgreens locations accept a wide range of health insurance options, offering cost-effective and comprehensive primary care and coordinated pharmacy services. Patients can access care and support through in-person, at-home and telehealth visits.
The Walgreens Boots Alliance is a partnership between Deerfield, Illinois-based Walgreens and UK-based beauty products and pharmacy chain Boots, meant to increase access to health care through their respective retail stores.
Additional information about Village Medical at Walgreens services and locations can be found online.