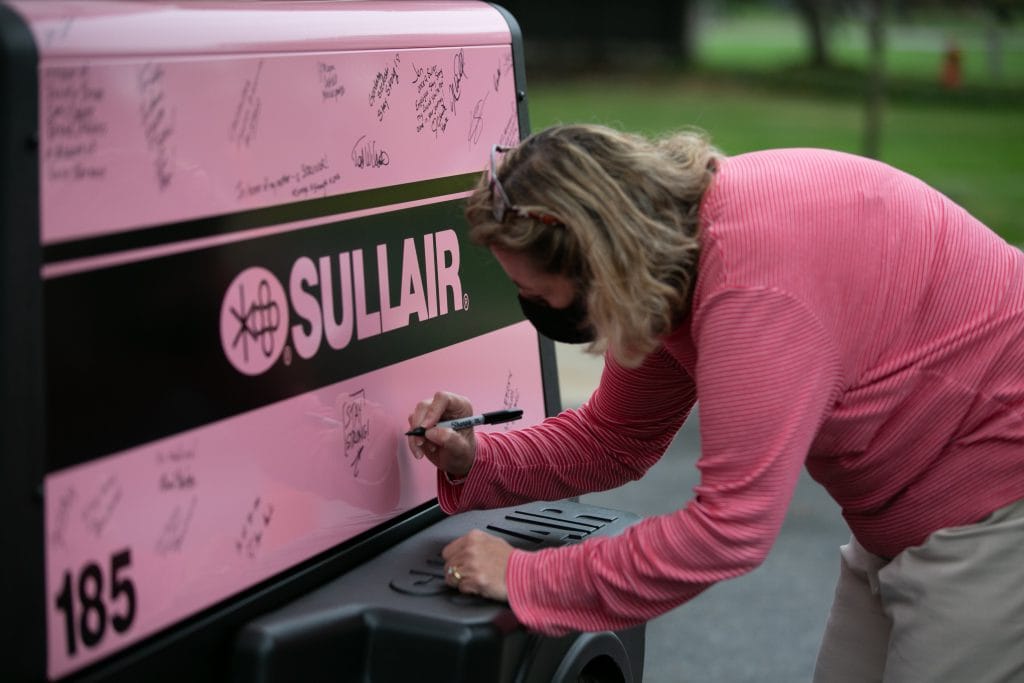 A one-of-a-kind pink air compressor made by Michigan City-based Sullair raised $32,500 for the ARA Foundation.
Sullair's custom 185 Series Tier 4 Final portable air compressor raised $32,500 in the American Rental Association Foundation Charity Auction. Texas First Rentals of Cibolo, Texas, purchased the pink compressor, which became the highest bid item in the history of the auction.
In addition to raising funds for the ARA Foundation, Sullair made a separate charitable donation to Susan G. Komen Chicago to support breast cancer awareness and research. Sullair donated $10,000 and 11 authorized Sullair distributors made a joint donation of $11,000.
"What was most gratifying throughout this campaign was the sense of community created—with our employees, our channel partners, and our neighbors," said John Randall, president and CEO of Sullair. "Many employees and channel partners were deeply touched and motivated to join in the cause (and) we are proud to know this record-setting item will directly benefit both the ARA Foundation and Susan G. Komen for breast cancer research."
Before the compressor was shipped to the ARA Show in Las Vegas, Sullair held a signing event at its Michigan City campus. Employees signed the unit with names and notes of encouragement for those fighting breast cancer and memories in honor of those who lost their battle.
The pink canopy was manufactured in the new Sullair Michigan City-based fabrication shop with pink powder coat paint donated by PPG. Sullair then cut, bent, powder-coated, assembled, and installed the pink canopy onto the compressor.