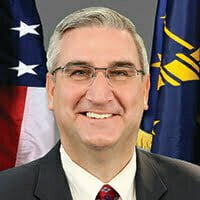 State leaders say 2021 marked a fifth consecutive year for record-breaking economic development in Indiana.
Gov. Eric Holcomb and Brad Chambers, secretary of commerce, said nearly 300 companies committed to locate and expand in Indiana, investing more than $8.7 billion in their operations, a 56% increase from 2020, with an increasing average wage of $28.49 per hour.
This was the highest capital investment and annual record for average wages since the Indiana Economic Development Corp. was established in 2005, state officials said.
In December, Chambers presented his strategic plan, called "the 5 Es," with the goal of taking a targeted and future-focused approach to business growth and talent attraction and retention.
The 5E goals are centered around five pillars supporting Indiana's next generation economy: environment, economy of the future, entrepreneurship, energy transition and telling Indiana's story through external engagement.
Additional information about statewide economic development activity is available in the IEDC's 2021 annual report.