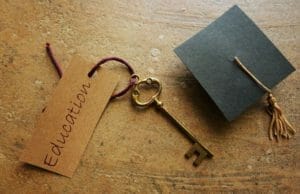 A new state report found Indiana's 2020 college graduation rates are higher when compared to the prior year, despite learning disruptions fueled by the global pandemic.
The Indiana Commission for Higher Education's 2021 College Completion Report said a possible explanation is students were already near graduating when learning shifted from in-person to online due to the pandemic. Completion rates for the class of 2021 are not available.
The state said more than 44% of all Hoosier college students graduated on time, within two or four years for a long-term certificate, associate's, or bachelor's degree, respectively, an increase of 2 percentage points since 2019. The rate of students graduating in an extended timeframe within six years for any degree type also improved from 62% in 2019 to almost 64% in 2020.
There also has been improvement in Indiana's college completion rates the past five years at both two- and four-year campuses, the state said. On-time completion rates increased 10.4 percentage points at four-year campuses and 9.3 percentage points at two-year campuses.
"Completing college is the foundational marker of college success, and we've been intentional about improving this rate for many years," said Teresa Lubbers, Indiana commissioner for higher education. "It is encouraging to see the class of 2020 finished strong, despite the turmoil that was going on last spring."
Campuses with the greatest one-year improvement in on-time graduation rates included Purdue University Northwest, Vincennes University, Indiana State University, University of Southern Indiana, Indiana University-Bloomington, and Purdue University-West Lafayette.
The full report is available on the commission's website.