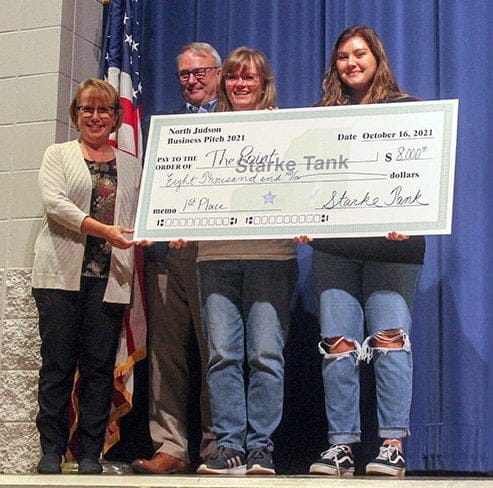 Starke County's spin on the popular TV show 'Shark Tank' where entrepreneurs compete for funds to launch their businesses is now a countywide competition.
The Starke County Economic Development Foundation announced Starke Tank 2022 will be a countywide competition for small businesses looking to open or expand. Previously the competition required the winner to locate within three miles of North Judson, but this year's winner can open their business anywhere in Starke County.
"Starke Tank was so successful that our board of directors voted to expand it to a countywide event," said Lisa Dan, SCEDF executive director. "Broadening the base creates more opportunities to raise a significant amount of prize money and attract more participants who want to grow a business in Starke County."
Kirt Verhagen, who grew up in North Judson, funded the first event in 2020 to help his hometown grow. The Starke County Economic Development Foundation and the Indiana Small Business Development Center partnered with Verhagen in that first event, which took place at the North Judson Town Hall.
Abrams Studios won the first contest, eventually locating its software development business in space leased from the North Judson-San Pierre School Corp. Since winning the first contest, the company has released two virtual reality video games.
Last year's event, renamed Starke Tank, was held at North Judson-San Pierre High School. A total of 31 sponsors donated money for prizes, which were awarded to a winner and a first runner-up.
The Point Drive-In in North Judson won the 2021 contest. The longtime business is under new ownership, which made it eligible to compete.
Cheryl Smith, the new owner of The Point Drive-In, used the prize money to add a FlavorBurst ice cream machine and plans to make additional capital renovations to the property. Five Buds Farm, an event venue southeast of North Judson, was last year's runner up.
This year's competition is Sept. 17 at 6 p.m. at North Judson-San Pierre High School.
There is no cost to enter. Competitors will receive free coaching from an SBDC advisor and will be required to participate in a dress rehearsal.
Entry forms and rules are available on the Starke County Economic Development Foundation website.