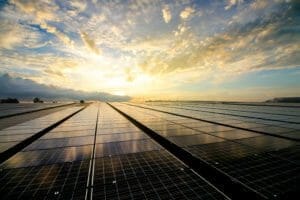 A maker of solar modules for residential, municipal and industrial scale applications is among the companies being honored by the state during Small Business Week.
South Bend-based Crossroads Solar Enterprises was founded by Patrick Regan and Marty Whalen in 2019. The company, which received the Community Impact Small Business of the Year award, is certified by the International Electrotechnical Commission and Underwriters Laboratories Inc.
"This week, we recognize the small businesses driving our state's economy forward," said Gov. Eric Holcomb. "The state is placing an increased focus on supporting Indiana's entrepreneurial companies, and with their persistence and entrepreneurial spirit, small business owners are creating careers and opportunities vital to every community across all 92 counties."
Holcomb issued a proclamation declaring Sept. 13 – 17 as Small Business Week in Indiana, celebrating the more than 529,000 small businesses in Indiana and the more than 1.2 million people they employ.
Crossroads Solar Enterprises' founders seek to assist individuals who have served time in prison, providing them with equal opportunity, a living wage with benefits and labor skills to reenter the workforce. This was among the reasons the company received the community impact award.
The Indiana Economic Development Corp. is recognizing Crossroads along with eight other small businesses. The awards, presented in conjunction with the U.S. Small Business Administration's National Small Business Week, honor the entrepreneurs' and small businesses' achievements and their contributions to grow Indiana's economy and strengthen communities across the state.
The 2021 honorees are:
Minority-Owned Small Business of the Year: bNutty, Portage. A minority- and woman-owned business founded by Joy Thompkins and later joined by business partner Carol Podolak, bNutty Peanut Butter is a gourmet peanut butter producer offering a variety of flavors and gift baskets. What started as a fundraiser for youth soccer in 2014 has grown into a robust manufacturing operation with multiple production lines.
Entrepreneur of the Year: Donte Wilburn, Lafayette. Donte Wilburn, owner and operator of Premier Detailing and Wash LLC, founded his business in 2011 with the goal of providing high-quality services built on servanthood and trust.  
Family-Owned Small Business of the Year: Fischer Farms, St. Anthony. Founded by Diana and Dave Fischer in 2004, Fischer Farms is a natural meat producer providing premium, local, sustainable products to Hoosier families and restaurants.  
 Innovative Small Business of the Year: InsightTRAC, Syracuse. Founded by Anna Haldewang in 2017, InsightTRAC provides on-site robotic pest removal and data tracking services to help almond growers better manage and optimize their yields.  
Rural Small Business of the Year: High Performance Alloys Inc., Tipton.  Founded by Russ Kirchner in 1984, High Performance Alloys Inc. manufactures and distributes superalloys and super stainless steels to serve the needs of the aerospace, chemical processing, oil-gas, medical and food processing industries.  
Start-Up of the Year: Saaslio, Indianapolis. Founded by John Harden in March 2020, Saaslio is a data insight software designed to help IT-managed service providers understand their client Software-as-a-Service (SaaS) systems and their security implications.  
Veteran-Owned Small Business of the Year: MidAmerica Safety Solutions, Evansville. Founded by Jeff Klump in 2017, MidAmerica Safety Solutions is a traffic control safety company providing on-site traffic management for work sites in the Evansville, Bloomington, Indianapolis and Cincinnati areas.  
 Woman-Owned Small Business of the Year: Starlight Spirits & Wines LLC, Borden. Founded by Dana and Jan Huber in 2001, Starlight Spirits & Wines LLC is the company responsible for the regional distribution of Huber wines.