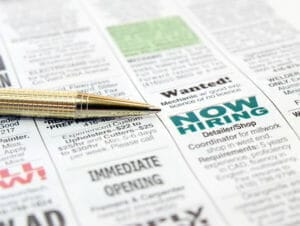 Now that Indiana has reinstated work-search requirements for those claiming unemployment benefits, state officials are encouraging use of its assorted resources to help the unemployed find work.
To be eligible for unemployment benefits, claimants must show they are seeking full-time work in each week they claim benefits. That requirement was suspended during the pandemic.
Data shows Indiana employers have posted more than 115,000 job openings around the state.
These are state resources to help residents improve skills and find work:
Workforce Ready Grant: Pays tuition and fees for eligible high-value certificate programs at Ivy Tech Community College, Vincennes University, Indiana Institute of Technology, or other approved providers.
Indiana Career Connect: Provides workforce services and tools to help employers connect with job-ready talent.
Hoosier Talent Network: Job-matching and career-planning site powered by artificial intelligence to help Hoosiers find the right job and uncover new opportunities.
180 Skills: Delivers online, technical, employability, and compliance manufacturing skills training aligned with the needs of employers.
InDemand Jobs: Focuses on high-demand, high-wage jobs for today and tomorrow. The demand indicator used is based on a methodology that ranks all Indiana jobs based on future growth and wages.
Hoosiers by the Numbers: Source for labor market information for Indiana.
Residents also can visit their local WorkOne center to learn about reemployment services.
AgriNovus, which is working to grow Indiana's agribusiness sector, recently launched a job board.
The AgriNovus site focuses on the agbioscience sector and connects individuals from early career to senior level.