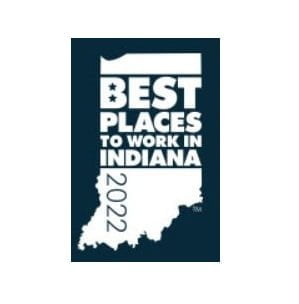 Several companies from around the South Bend-Elkhart area and Northwest Indiana were named to the Best Places to Work in Indiana list for 2022.
The annual program, which launched in 2006, is presented by the Indiana Chamber of Commerce.
A total of 125 Hoosier businesses were named to this year's Best Places to Work list.
"Best Places to Work in Indiana not only recognizes our state's outstanding employers, but also sets a high standard for other Hoosier companies by encouraging them to realize the importance of evaluating their own workplace," said Kevin Brinegar, president and CEO of the Indiana chamber. "It is clear that a positive work environment makes employees more engaged in their job and in their company, which is what every employer wants and can greatly aid in employee retention – something on the minds of many businesses right now."
Winning companies represent more than 35 cities and towns across the state.
The company rankings will be unveiled May 12 at an awards event sponsored by Ivy Tech Community College.
Top companies in the state were determined through employer reports and comprehensive employee surveys. The Workforce Research Group handled the selection process.
Winners were selected from four categories: small companies of between 15 and 74 U.S. employees; medium companies of between 75 and 249 U.S. employees; large companies of between 250 and 999 U.S. employees; and major companies with 1,000 or more U.S. employees. Out-of-state parent companies were eligible to participate if at least 15 full-time employees are in Indiana.
Organizations on this year's list that have displayed sustained excellence during the program's 17-year history were named Hall of Fame companies. These honorees have been named a Best Place to Work in Indiana at least 60% of the time in the program's history.
Northwest Indiana and South Bend-Elkhart area companies on the list (*Hall of Fame companies):
Small Companies (15-74 U.S. employees; 53 in category)
General Insurance Services / Michigan City
Network Solutions Inc. / Granger
Starin Marketing / Chesterton
Medium Companies (75-249 U.S. employees; 38 companies)
Gibson / South Bend
Harmony Healthcare IT / South Bend
Large Companies (250-999 U.S. employees; 24 companies)
CAPTRUST / Chesterton
Centier Bank / Merrillville
Horton Group / South Bend
Hylant / Multiple Indiana locations including Bristol
Major Companies (1,000+ U.S. employees; 10 companies)
* Edward Jones / Statewide
* Horseshoe Hammond casino / Hammond
The complete list is available on the Indiana Chamber of Commerce's website dedicated to the Best Places to Work in Indiana program.