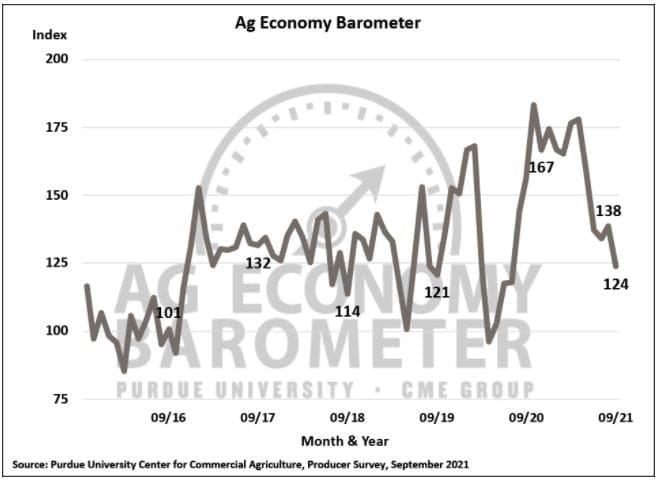 Rising costs likely are the driving force behind a steep drop in Indiana's agriculture industry's outlook on the sector.
The Purdue University/CME Group Ag Economy Barometer dropped 14 points from August's reading of 138 to 124 in September.
With producers feeling less optimistic about both current conditions on their farming operations as well as their expectations for the future, this is the weakest farmer sentiment reading since July 2020 when the index stood at 118, Purdue researchers said. The Index of Current Conditions declined 12 points to a reading of 140 and the Index of Future Expectations fell 16 points to a reading of 116.
The Ag Economy Barometer is calculated each month from 400 U.S. agricultural producers' responses to a telephone survey. This month's survey was conducted between Sept. 27 and Sept. 29.
The Farm Financial Performance Index was unchanged from last month with a reading of 110. However, examining the detailed responses reveals there was a shift among producers with regard to their farms' financial performance.
In September, fewer farms said they expected their farms financial performance to match last year's, while the percentages of producers expecting both worse and better financial performance rose. Although the combined responses left the Farm Financial Performance Index unchanged from a month earlier, the increasing divergence in expectations among respondents from August to September could reflect differences in how individual farms managed risk in a period of rapidly fluctuating commodity prices.
The decline in farmer sentiment spilled over into the Farm Capital Investment Index, which declined 10 points to a reading of 43, down 50% since the beginning of the year and the lowest investment index reading since April 2020. Fewer farmers this month said they planned to increase their machinery purchases than on the August survey as just 8% of respondents plan to increase purchases, down from 10% last month.
Producer concerns about rising input costs rose sharply with more than one-third of respondents saying they expect input prices to rise by more than 12% in the coming year, which is six times the average farm input inflation rate of the last decade.