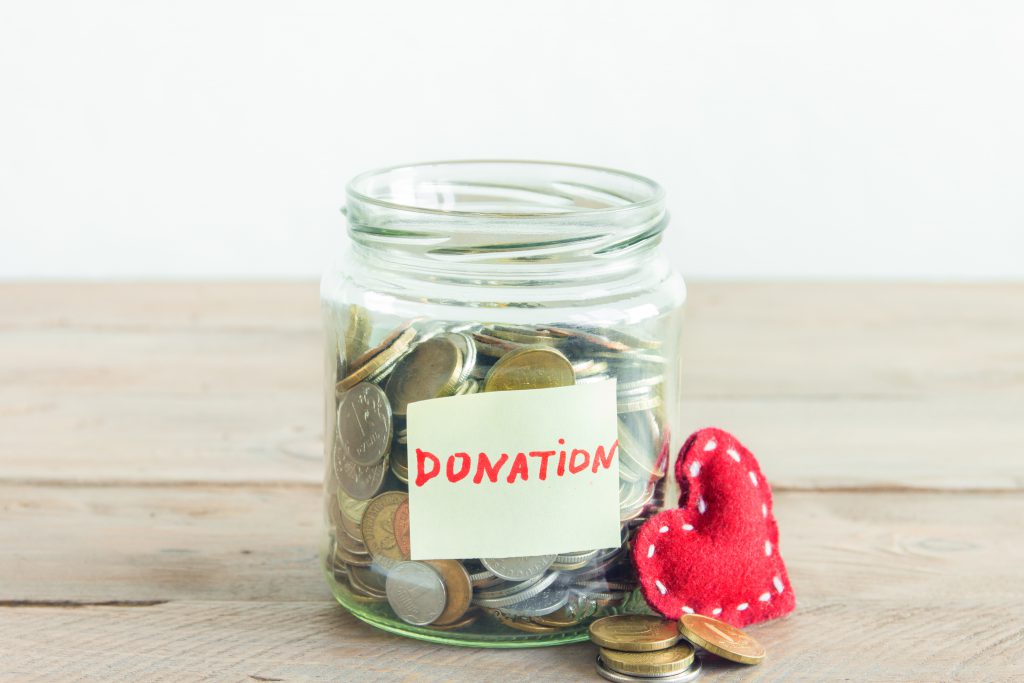 The global pandemic has created a situation where more people than usual are turning to assorted organizations for help with daily life.
In recent weeks, residents and businesses throughout Northern Indiana have donated a range of items from dollars to needed supplies and food to restock bare shelves. The assistance allowed these various groups to advance their missions.
These are some of the donations shared with Northwest Indiana Business Magazine:
Goodwill Industries of Michiana announced Dec. 17 it was the recipient of a $10 million donation from philanthropist MacKenzie Scott. As a signatory of the Giving Pledge, developed by Warren Buffett and Bill and Melinda Gates, Scott has committed to giving the majority of her wealth to address society's most pressing problems.
Funds raised through the annual Bolt for the Heart 5K Family Run/Walk and inaugural half marathon in November raised enough funds to purchase 29 AEDs for LaPorte County police officers and four units for the Long Beach Police Department.
Gus Bock's Ace Hardware, with locations in Dyer, Munster, and Lansing, Illinois, raised $1,633.79 the week of Oct. 26 through Nov. 1. The donation supported the Cancer Resource Centre in Munster.
Pure Farmland recognized Unity Gardens of South Bend and its positive impact in the community through a donation of $1,000. The endowment is part of the 2020 Pure Growth Project, an initiative launched by Pure Farmland to support community gardens, and to help increase the availability of fresh, locally grown fruits and vegetables nationwide.
Donations by Richard and Donelle Weiss have helped Purdue University Northwest in numerous ways. The college announced in November the couple has committed to support the college's athletic strength and conditioning program. The department recently hired a full-time strength and conditioning coach. The Weiss' donations are part of a six-year commitment, which have totaled $150,000 to date.
In late November, Franciscan Health said it received 44,198 diapers through its annual Diaper Drive program. The diapers and cash donations are collected in October. The 2020 total surpassed the previous year by 14,198. The diapers will be distributed to families in need around Northwest Indiana and Chicago's south suburbs.
Cleveland-based KeyBank donated $25,000 to support Beacon Health System in South Bend. The dollars will go toward the system's Child Life Program, which supports young patients and their families during hospital visits. Beacon Health System said the program typically receives funds raised through the annual Sunburst Races held during the summer but was cancelled this year because of the pandemic. KeyBank has been a major sponsor the past eight years but for 2020 made the donation directly to the health system.
The Florence V. Carroll Charitable Trust recently awarded Hoosiers Feeding the Hungry a $10,000 grant. The funds will help pay processing fees on donated livestock and deer with the meat being given to hunger relief agencies serving residents n St. Joseph County.
The Rotary Club of Munster on Dec. 11 announced donations of $2,000 to the Salvation Army of Lake County and $2,000 to the Food Bank of Northwest Indiana.
The Northwest Indiana Business Roundtable, through its annual Hard Hat Charity Golf Outing, raised $10,000. Equal shares were donated to the Downs Syndrome Association of Northwest Indiana, TradeWinds Services Inc., Boys & Girls Club of Greater Northwest Indiana, and Clothing Our Children.
Franciscan Health on Dec. 15 announced it received a $5,000 donation from the 1st Source Bank Foundation. The dollars were used to purchase "Health Hero" stocking caps for health care workers on the frontline of the pandemic.
Highland-based Strack and Van Til donated $15,000 in store gift cards to the Salvation Army of Lake County. The gift cards were distributed to families in need in Gary, East Chicago, and Munster.
NIPSCO announced Dec. 18 its annual Hope for the Holidays initiative, which combines company and employee donations – raised more than $62,000. The dollars were distributed to groups throughout the Merrillville-based company's service area.
Hard Rock Casino Northern Indiana on Dec. 16 hosted a turkey giveaway to Gary residents at the construction site of its new casino on I-94 and Burr Street. A total of 400 turkeys were distributed.
The Munster Fire Department and the Munster Firefighters Association sold and wore new t-shirts that served to raise cancer awareness. The effort raised $5,815, which was donated to the Cancer Resource Centre in Munster, a program of the Community Cancer Research Foundation.
Theresa Flamini of the Flamini Foundation and a group of youths and their families from Chicago Heights, Illinois, worked with the Franciscan Health Foundation to collect more than 100 toys, which were donated to Franciscan Health's Prenatal Assistance Program in Crown Point.
Jaiden Rhodes, 11, from Highland, made handcrafted Christmas ornaments and raised $256. His mother, Aisha Ricks, used the money to buy toys which were donated to St. Jude House in Crown Point, a shelter for victims of domestic violence, and to Franciscan Health Dyer.
The Michigan City Rotary Club donated $5,070 to the Franciscan Health Foundation's COVID-19 Preparedness and Response Fund. The donation covered cost of 200 pulse oximeters, which were included in COVID kits sent home with patients discharged from the hospital. The kits allow physicians to remotely monitor the vital signs of patients, ensuring they are recovering well at home or providing a signal that additional treatment may be needed.
Indiana Trust Wealth Management in Mishawaka on Dec. 21 announced it donated $25,000 to the Food Bank of Northern Indiana in South Bend and $25,000 to Second Harvest Food Bank of East Central Indiana in Muncie.
United Way of Porter County, Meijer, Porter County School Districts and local law enforcement have been hosting holiday shopping excursions for students in need since 2018. This year, Meijer provided a $3,000 grant, which was used by the Duneland School District and Hebron School District in partnership with the Hebron Police Department to shop for holiday gifts and other essentials on behalf of students and their families.
Members Advantage Credit Union in Michigan City recently donated $500 to the NewDay Foundation of La Porte. The foundation helps cancer patients as they undergo treatment by providing Bags of Hope to first-time chemo and radiation patients as well as new teddy bears, coloring books and crayons, reading/activity books to children at local hospitals. The credit union also recently donated $2,000 to support Salvation Army services in the Michigan City.