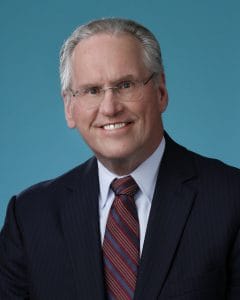 William Johnson is the newest member of Merrillville-based NiSource's board of directors.
Johnson most recently served as president and CEO of Pacific Gas & Electric Corp. between 2019 and 2020. He replaces Wayne DeVeydt, who served as a NiSource board member since 2016, but stepped down after accepting an operating partner role with Bain Capital.
"We are pleased to welcome (William) as an independent director to our board, further reinforcing our board refreshment efforts," said Kevin Kabat, NiSource chairman. "Bill brings deep regulated utility industry experience to the board as well as a strong background in executive leadership, operational efficiency, finance and M&A."
NiSource has appointed six new directors to its board the past four years, including Sondra Barbour and Cassandra Lee, whose appointments were announced in January.
Johnson also served as president and CEO of the Tennessee Valley Authority between 2013 and 2019 and was chairman, president and CEO between 2007 and 2012 at Progress Energy Inc. He also serves on the board of TC Energy.
Johnson has a law degree from the University of North Carolina School of Law. He graduated summa cum laude with a bachelor of arts degree in history from Duke University.
NiSource is the parent company of NIPSCO, which serves approximately 850,000 natural gas and 480,000 electric customers across 32 counties in northern Indiana.