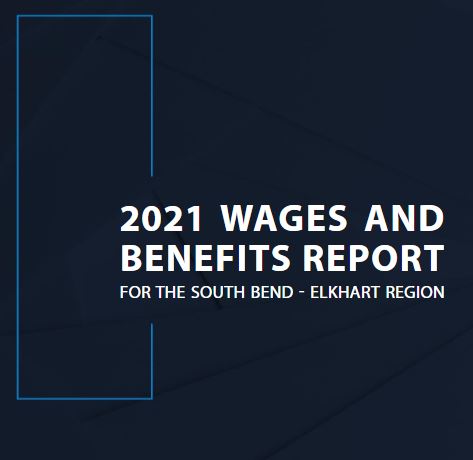 Advanced manufacturing and transportation and related industries are showing no signs of slowing in North Central Indiana.
These major employment sectors as well as several others, showed growth in the 2021 Wages and Benefits Report released by the South Bend-Elkhart Regional Partnership, an economic development organization. The report, which is compiled biannually, found about 60% of participating companies added workers the past six months with 80% planning additional hiring this year.
"The report provides a key insight into regional wage and employment in occupations throughout the (North Central Indiana area) especially with those specialized and emerging industry sectors allowing us to see how (our) region's position compared to national trends," said Jill Scicchitano, director of industry growth for the partnership. "Another important part of this report is gaining insight into the (North Central Indiana) company hiring outlook and programs specific to the development and growth of employees."
She said through research done for the report, economic development leaders can see company perspectives on training programs, turnover rates, participation in Internships and drug screening policies and new this year remote learning opportunities offered.
The workforce outlook in the report was informed by a voluntary survey of compensation practices and policies of 143 employers representing over 40,000 employees in eight counties across northern Indiana and southwest Michigan. Survey participants include some of the Michiana area's leading employers engaged in manufacturing, healthcare, logistics, financial, education, and other industries, some with annual sales of hundreds of millions of dollars and others with only a few employees.
"The diversity of participants and regional focus make the report a valuable tool for supporting the growth of existing employers and attracting new investment to the region," said Regina Emberton, CEO of the partnership. "The report demonstrates the competitive workforce practices of employers in the South Bend – Elkhart region."
The survey collected data about benefits packages and policies including health care costs paid by employers and employees, retirement benefits, training, vacation, and other employment perks. It took about four months to compile the data and prepare the report, which was released Sept. 15.
Other organizations that partnered and assisted with the report include: Economic Development Corp. of Elkhart County, Economic Development Corp. Michigan City, Fulton Economic Development Corp, Goshen Chamber of Commerce, Greater Elkhart Chamber of Commerce, Kosciusko Economic Development Corp., LaPorte Economic Alliance Partnership, LaPorte County Office of Community and Economic Development, Marshall County Economic Development Corp., and the South Bend Regional Chamber.
The report includes regional wage data collected by Emsi Burning Glass based on the Bureau of Labor Statistics and compiled state data from the Indiana Department of Workforce Development, Michigan Department of Labor and Economic Growth, and the Bureau of Labor Market Information and Strategic Initiative. Annual average wage data for the Michiana area's specialized and emerging industry clusters is also featured.
Scicchitano said report is an important tool providing insights on compensation practices unique to the South Bend-Elkhart area.
"We are hopeful the information serves as a guide as companies look to the future growth of their organization and assists with their ability to be competitive in the market when retaining and attracting talent," she said. "This report can also be an important piece to economic development organizations as they look to support the growth of companies in their communities and when attracting new investment to the (South Bend-Elkhart area)."
The 2021 Wages and Benefits Report is free and can be viewed or downloaded from the South Bend-Elkhart Regional Partnership website.