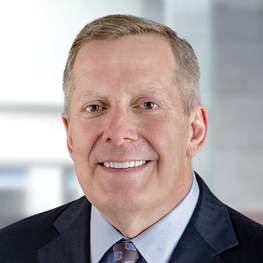 Mark Baer is the new CEO for Crowe.
The firm, which has a South Bend location, is a public accounting, consulting, and technology firm, with global operations. Baer succeeds Jim Powers, who completed two terms as Crowe CEO, the maximum in accordance with the firm's partnership agreement, the company said in a statement.
Baer appointed Brenda Torres as the firm's chief operating officer. Torres previously served as the lead for audit quality and operations in audit and assurance services.
"I feel privileged and proud to serve as CEO and build upon our firm's remarkable 80-year history," Baer said. "The leadership team and I are focused on growing and thriving through these extraordinary times."
Torres will be responsible for overseeing several firmwide administrative groups, including talent solutions; diversity, equity and inclusion; partner affairs; global services; and geographic office leaders.
The Crowe executive team includes:
Simon Riley, chief strategy and transformation officer
Julie Wood, chief people officer
Steve Strammello, chief risk officer
Ray Calvey, chief financial officer
Chris Mitchell, chief diversity officer
Ann Lathrop, marketing and sales leader
Rex Voorheis, chief information security officer
Steve Keeley, general counsel
Justin Bass, chief data science officer
Crowe will also be led by:
Nicole Bencik, managing partner, tax
Wendy Cama, managing partner, audit and assurance
Josh Cole, managing principal, consulting
Chad Kellar, managing partner, advisory
Tony Klaich, managing partner, markets and industries