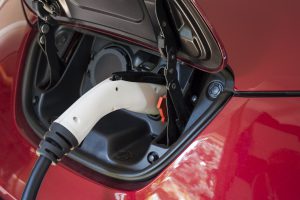 Indiana's electric vehicle charging network is expanding.
South Shore Clean Cities recently announced the Northwestern Indiana Regional Planning Commission and the Michiana Area Council of Governments were awarded $206,000 in Indiana Volkswagen Environmental Mitigation Trust Fund grants funds to add more public electric vehicle charging stations around the state.
A total of 24 Level 2 or fast-charging stations will be installed in 18 communities, including Crown Point, Gary, Lake Station, Michigan City, Whiting, Hammond, Portage, Burns Harbor, Highland, Merrillville and Munster in the NIRPC region and Culver, Elkhart, Goshen, Mishawaka, Plymouth, South Bend and Warsaw in the MACOG region.
"South Shore Clean Cities was pleased to assist our partners at NIRPC and MACOG with successful Indiana Volkswagen Environmental Mitigation Trust Fund grant applications to expand Level 2 electric vehicle charging station locations across Northern Indiana," said Carl Lisek, executive director of South Shore Clean Cities. "These stations will help accelerate the adoption of electric vehicles and will serve as destinations for electric vehicle owners, helping to support the local economy while improving air quality."
The Department of Energy estimates Indiana had 708 electric vehicle charging stations, prior to the grant announcement.
South Shore Clean Cities partnered with NIPSCO for the Project Plug-IN incentive for this round of grant applications. NIPSCO pledged a cash match of up to $500 for each successful grant application submitted that met eligible criteria.
Eligible entities included public and nonprofit NIPSCO electric customers and Northern Indiana Green Fleet Program members in good standing who worked with South Shore Clean Cities to submit a proposal.
The state received $40.9 million of the $2.9 billion settlement reached in 2016 between the Department of Justice and Volkswagen Corp. for its violation of the federal Clean Air Act. The company agreed to the settlement to resolve violations based on the sale of 2.0-liter diesel engines equipped with software designed to cheat federal emissions tests.