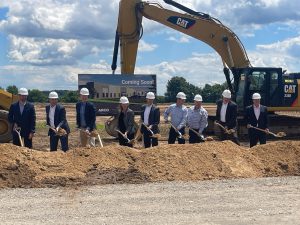 Dallas-based MJB Wood Group is building a new distribution and fabrication site, which will nearly double the size of its existing Elkhart County operation.
MJB representatives along with project general contractor ARCO Construction Co. broke ground on the 500,000 square-foot facility on a 37-acre lot near Bristol, which will replace the company's older 228,000 square-foot site when it is completed in early 2022. MJB employs about 50 people at its Elkhart County facility but expects do double that number when its new site opens.
Company representatives said growth the past five years and year-over-year revenue growth exceeding 18% is behind the decision to expand in Indiana.
"We are excited to invest in this new facility because of MJB's commitment to the vibrant RV industry in Northern Indiana and the surrounding areas," said Scott Griggs, president of MJB Wood Group. "This new facility will improve the efficiency of inbound and outbound freight, which will allow MJB to deliver more freight on time, while respecting the tight receiving window of customers,"
The new facility includes a 100,000 square-foot fabrication area, which will allow MJB to offer custom services including cut-to-size, CNC machining, kitting, and light assembly.
"We're investing tens of millions of dollars in our new facility in Elkhart County because of the area's strategic importance to the RV industry," said Jeff Messick, executive vice president of MJB Wood Group. "Elkhart County manufactures 80% of the recreational vehicles on the road today, and the industry dates back nearly a century (and) more than a dozen major manufacturers of RVs call Elkhart County home, and we're proud to call Elkhart home as well."