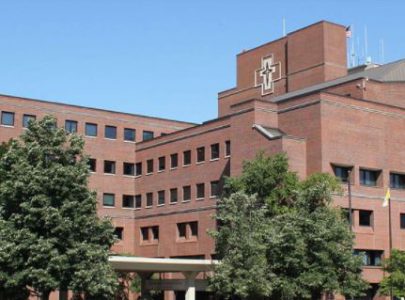 Work has been happening behind the scenes the past few months to prepare for the transformation of the more than 100-year-old Franciscan Health Hammond hospital, a spokesman said.
"Since our announcement (in May), we have been busy with internal preparation work," said Robert Blaszkiewicz, a spokesman for Franciscan Health. "Some of this involves relocating medical equipment that will no longer be used at Franciscan Health Hammond."
Demolition work likely will not start until early next year, he said.
Franciscan also has been actively seeking places to donate some of the hospital's furnishings. One recipient has been the Carmelite Home in East Chicago, which is rebuilding after a fire in May, Blaszkiewicz said.
Blaszkiewicz said Franciscan also has been transitioning various inpatient and outpatient services to its hospitals in Munster and Dyer. That will continue throughout September, though the Family Birth Center and newborn intensive care unit (NICU) will not move until November, he said.
A hurdle facing Mishawaka-based Franciscan is preserving services at Hammond while it also prepares the facility for demolition and extensive renovations. The health system has pledged to keep the facility open throughout the construction process and continue providing services to the city and surrounding area even as its Hammond footprint shrinks.
"One of the challenges is ensuring that major cabling for phone, data, and many other key infrastructure elements supporting hospital operations are not interrupted during demolition," Blaszkiewicz said. "This requires quite a bit of due diligence prior to demolition, especially since our goal is uninterrupted services throughout this multi-phased, multi-year program."
Blaszkiewicz said mechanical, electrical, and plumbing infrastructure improvement work will begin in late September or early October.
Job cuts are inevitable at the Hammond hospital as its operations are scaled down. About 300 people were employed full-time at the hospital when Franciscan announced its plan in May.
Since then, Franciscan filed a WARN notice with the Indiana Department of workforce Development in June, which indicated it would be closing some departments and making other staff reductions. In its state filing, Franciscan said 83 jobs would be lost.
Some of Franciscan's Hammond hospital employees have either moved to other jobs within the health system or have found work elsewhere.
Blaszkiewicz said as of Aug. 20, Franciscan was still providing job placement assistance to 34 of the hospital's employees.
"As we have additional vacancies, we will continue to place as many current staff members as possible," he said.
Kindred Hospital Northwest Indiana, which occupies space on the fifth floor of the Hammond hospital, announced in a WARN notice with the state, that it will cease operations and begin employee separations Oct. 10.
Kindred employed 110 people at the Hammond hospital. Its decision to close is based on Franciscan's plan, which will demolish the fifth floor space Kindred occupies.
Franciscan officials approved spending $15 million to demolish sections of the hospital and about $31.2 million to renovate the remaining space into an eight-bed acute care hospital, 24/7 emergency department and primary care facility.
The renovated hospital site also will continue providing inpatient care for short stays, imaging services, laboratory services, wound care, dialysis, and prenatal care.
Economics is partly behind the decision to downsize the Hammond hospital at 5454 Hohman Ave. Officials have said eliminating duplicate services, which are available at other hospitals within a 10-mile radius of Hammond will save money.