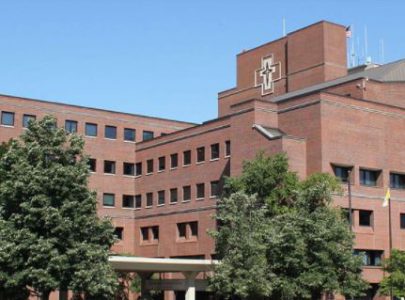 Franciscan Health is moving forward with its plan to transform its sprawling hospital campus in downtown Hammond to a smaller, streamlined acute care facility.
In a WARN notice dated June 17 to the Indiana Department of Workforce Development, the Mishawaka-based health system noted it "will be closing certain departments and making other reductions in staff."
The closures and reductions are expected to be permanent, Franciscan said in the state notice. A total of 83 people will be impacted with the first cuts happening Aug. 21.
Robert Blaszkiewicz, a spokesman for Franciscan Health, said the process of converting Franciscan Health Hammond will start in August. About 300 people were employed full-time at the hospital when Franciscan announced its plan in May.
"The conversion of our Franciscan Health Hammond facility to an eight-bed acute care hospital and ER will affect some current staff positions," he said in an emailed statement. "Since informing our employees last month about the changes, we have focused on moving as many team members as possible into other positions within Franciscan Health and the Franciscan Physician Network."
Blaszkiewicz said Franciscan's human resources staff is assisting current employees find jobs within the health system or elsewhere.
The Hammond hospital is open and will remain operational throughout the conversion work, he said.
Franciscan officials approved spending $15 million to demolish sections of the hospital and about $31.2 million to renovate the remaining space into an eight-bed acute care hospital, 24/7 emergency department and primary care facility.
The renovated hospital site also will continue providing inpatient care for short stays, imaging services, laboratory services, wound care, dialysis, and prenatal care.
Economics is partly behind the decision to downsize the Hammond hospital at 5454 Hohman Ave. Officials have said eliminating duplicate services, which are available at other hospitals within a 10-mile radius of Hammond will save money.