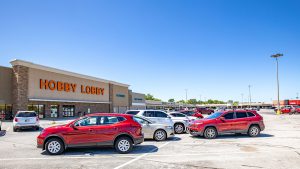 Michigan City's Lake Park Plaza shopping center is under new ownership.
Hanley Investment Group Real Estate Advisors announced the 114,867-square-foot retail site, which was owned by RCG Ventures of Atlanta, Georgia, was sold to a Miami area-based private investment firm for an undisclosed amount. The retail hub was listed for sale at $6.34 million.
Eric Wohl and CJ Kiehler, both with Hanley Investment Group, and Scott Reid & ParaSell Inc., represented the seller, RCG Ventures, a privately funded real estate investment group, which acquires and develops commercial real estate throughout the U.S.
Wohl said his firm has seen rising demand for big-box anchored retail centers around the country. Above market returns on investments are drawing in buyers.
"(This) closing further highlights the resurgence of value-oriented, big-box retail across the country," he said. "Last year during the height of the pandemic, properties like this weren't trading due to fear of the unknown and, now that the dust has settled, investors and consumers alike have realized that brick and mortar retail is here to stay."
Wohl said Lake Park Plaza's anchor tenant, Hobby Lobby, extended its lease for 10 years and has experienced rising sales nationally. The shopping center, which was built in 1992, was 91% occupied at the time of the sale
Lake Park Plaza occupies nearly 21 acres at 4303-4361 Franklin Street, a heavy retail corridor in Michigan City off I-94. Other plaza tenants include JOANN, Citi Trends and Stock+Field.
Hanley representatives said at least 75% Lake Park Plaza has been continuously occupied for more than 10 years.
Other nearby by retailers include Walmart, Lowe's, Menards, Meijer, Ross, T.J. Maxx, Kohl's, and ALDI.