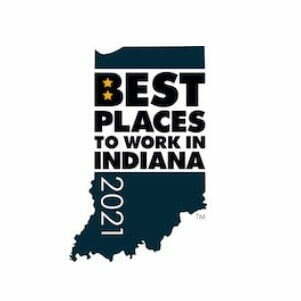 Several Northwest Indiana and North Central Indiana businesses have been named among the Best Places to Work in the state for 2021.
The annual program, which started in 2006, is presented by the Indiana Chamber of Commerce.
"With the extreme and unexpected challenges of 2020, we were delighted to see the program participation level stay relatively flat and that so many Hoosier companies responded to the pandemic in a way that their employees greatly appreciated," said Kevin Brinegar, Indiana Chamber president and CEO Kevin. "Company culture went far beyond the official benefits and perks to worker safety and taking job flexibility to levels that most couldn't have imagined."
The company rankings will be unveiled May 6 at an awards event sponsored by Ivy Tech Community College. The format is yet to be determined but either will be entirely virtual or a hybrid program with an in-person option.
Top companies in the state were determined through employer reports and comprehensive employee surveys. The Best Companies Group, which handled the selection process, oversees similar programs in 25 other states.
Hall of Fame companies have been named a Best Place to Work in Indiana at least 10 out of the past 16 years of the program. Edward Jones, which locations around the state, has made the list all 16 years of the program.
Honorees from the Region and North Central Indiana include:
Small Companies (15-74 U.S. employees)
General Insurance Services, Michigan City
Peepers, Michigan City
Medium Companies (75-249 U.S. employees)
Gibson, South Bend
Harmony Healthcare IT, South Bend
Large Companies (250-999 U.S. employees; * Hall of Fame company)
CAPTRUST Lakeside, Chesterton
* Centier Bank, Merrillville
Major Companies (1,000+ U.S. employees; * Hall of Fame company)
Barnes and Thornburg LLP, Indianapolis (also has locations in Elkhart and South Bend)
CSI / Valparaiso
* Edward Jones / statewide
* Horseshoe Casino Hammond / Hammond
The complete list is available on the Indiana Chamber of Commerce website.