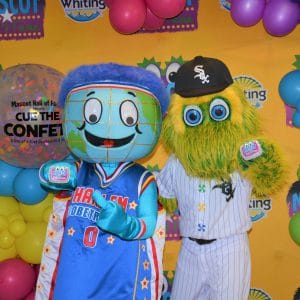 The mascots for the Chicago White Sox and Harlem Globetrotters will be inducted into the National Mascot Hall of Fame in Whiting June 18.
The White Sox's South Paw and Globetrotters' Globie were announced as the newest HOF class in November. The ceremony, which begins at noon, also will recognize the 2020 HOF class, which did not have a public ceremony because of the pandemic.
The 2020 class included Oriole Bird (Baltimore Orioles-MLB), Youppi! (Montreal Canadiens – NHL), Blue (Indianapolis Colts-NFL) and Boomer (Indiana Pacers-NBA).
The induction ceremony will feature Carmen DeFalco, ESPN Chicago radio personality.
The day will feature a Fan Fest area with a Chicago Blackhawks inflatable hockey rink, photo opportunities with the mascots, autographs, and give-a-ways. The gate will open at 10 a.m. with the event running until 5 p.m.
Tickets are $10 and can be purchased on the HOF's website or by calling (219) 354-8814.