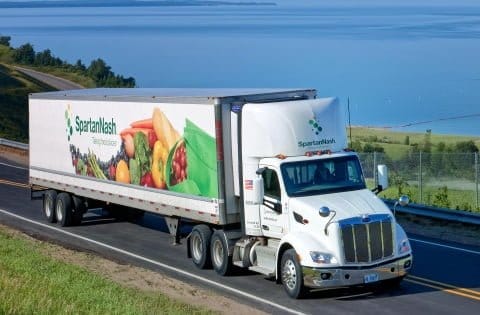 Michigan-based SpartanNash is focused on cutting its fleet's greenhouse gas emissions.
The company said it is reducing its carbon footprint beginning in 2022 through an annual fleet mileage reduction plan of more than 7 million miles or roughly 10% of its total fleet mileage. The company said the effort will cut nearly 10,000 metric tons of greenhouse gas emissions and will provide faster, fresher and more cost-effective deliveries for its customers.
"Network optimization is a key component of our supply chain transformation initiative as well as an opportunity to make significant progress with regard to our ESG (environmental, social and governance) journey," said David Petko, SpartanNash senior vice president and chief supply chain officer. "When food is traveling fewer miles, everyone wins – our customers, our consumers and our planet."
SpartanNash is forming strategic alliances with logistics partners to improve efficiency and service for its growing network of customers from coast to coast.
The partnerships will drive supply chain efficiencies, saving an estimated one million gallons of diesel annually and representing the equivalent of more than 100 tankers of gasoline, energy for more than 1,000 homes for one year, or more than 20,000 barrels of oil, the company said. It is the carbon sequestered by more than 150,000 tree seedlings grown for 10 years.1
Optimizing the supply chain is among several focus areas for the company's ESG strategy. Earlier this year, SpartanNash published a vendor code of conduct and human rights policy to further demonstrate commitment to ESG-forward practices.
SpartanNash acquired Martin's Super Markets Inc. of South Bend in November 2018. The deal, which closed in January 2019, included 21 Martin's Super Markets, eight fuel centers, 17 in-store pharmacies, a pharmacy at Saint Joseph Health System in Mishawaka, a Martin's Express convenience store in South Bend and a Side Door Café at Elkhart General Hospital.
In addition to Martin's, SpartanNash operates a total of 148 supermarkets, under other brands including Family Fare, D&W Fresh Market, VG's Grocery and Dan's Supermarket. The company also is a distributor of grocery products to U.S. military commissaries though its MDV business unit.