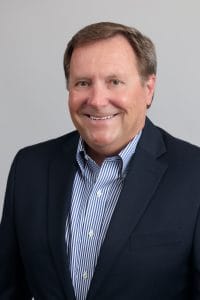 Michigan-based SpartanNash has promoted executive David Sisk to chief customer officer.
Sisk was hired in February 2020 as president of SpartanNash's military division. As chief customer officer, a new position at the company, Sisk will report to Tony Sarsam, president and CEO and will oversee customer engagements for all national accounts, independent and chain grocers, e-commerce retailers, and the U.S. military commissaries and exchanges.
"David will be critical in elevating the role of the customer in our organization and driving the success and growth of these relationships," Sarsam said.
Sisk has led the strategic policies, goals and objectives of the military division, growing the Defense Commissary Agency's private label product offerings, which are primarily distributed by SpartanNash. Under his leadership, the military division improved its gross margin rates, achieved significant efficiencies within its network, and delivered more than 70,000 loads to domestic military families, 7,800 containers and 16 emergency airlifts to troops stationed overseas.
Before joining SpartanNash, Sisk served as president and chief operating officer for OSC-WEBco, where he oversaw worldwide strategic plans, profit and loss accountability, personnel and global operations across all military divisions and more than 100 retail categories. He also spent more than 30 years with Procter & Gamble.
Sisk is a board member for the non-profit organization Honor and Remember. He previously served as chair of the American Logistics Association board of directors and is a recipient of the ALA's Lifetime Achievement Award.
South Bend-based Martin's Super Markets, which was acquired by SpartanNash in a deal announced in November 2018 and closed in January 2019.
SpartanNash's purchase of Martin's included 21 Martin's Super Markets, eight fuel centers, 17 in-store pharmacies, a pharmacy at Saint Joseph Health System in Mishawaka, a Martin's Express convenience store in South Bend and a Side Door Café at Elkhart General Hospital.
In addition to Martin's, SpartanNash operates a total of 145 supermarkets, under other brands including Family Fare, D&W Fresh Market, VG's Grocery and Dan's Supermarket. The company, which employs more than 19,000 people, also is a distributor of grocery products to U.S. military commissaries though its MDV business unit.