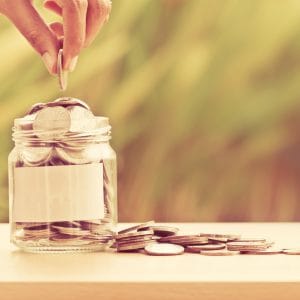 There's no shortage of people and businesses willing to lend a hand to assorted causes and to those in need across North Central Indiana and Northwest Indiana. Here are some recent donations made to several organizations and those in need:
Michigan-based SpartanNash is conducting its annual in-store fundraiser now through Nov. 6 in support of local food banks in Indiana, Iowa, Michigan, Minnesota, Nebraska, North Dakota, Ohio, South Dakota and Wisconsin. All 147 company-owned stores including Martin's Super Markets in Indiana and other brands Family Fare, D&W Fresh Market, Dan's Supermarkets, Supermercado, VG's Grocery, Forest Hill Foods and Ada Fresh Market are participating in this fundraiser. Shoppers can donate $1, $5, $10 or simply round up their shopping total to the nearest dollar at the register during checkout. Every dollar donated makes a significant impact and can provide up to 10 meals, according to Feeding America.
Goshen-based Interra Credit Union's annual Do Well To Do Good annual staff volunteer day was Oct. 10.  About 300 staff members provided nearly 1,200 volunteer hours while serving 32 organizations in Elkhart, Kosciusko, LaGrange, Marshall and Noble counties. The credit union worked with Acts of Service through the Community Foundation of Elkhart County to find organizations to assist. Organizations assisted include: Blue Star Mothers, Boys & Girls Club (Bremen Club), Boys & Girls Club (Nappanee Club), Concord Little League, Dustin's Place, Elijah Haven, Elkhart County 4-H Fairgrounds, Fairfield Community Schools (Benton Elementary, Millersburg Elementary/Middle School, New Paris Elementary, and Fairfield Jr. Sr. High), Girls on the Run (popsicle tracker making), Goshen Community Schools (Chamberlain Elementary, Chandler Elementary, Model Elementary, Parkside Elementary, Prairieview Elementary, Waterford Elementary, West Goshen Elementary, and Goshen Intermediate), Habitat for Humanity of LaGrange County, Lakeland Youth Center, Lighthouse Daycare & Learning Center, Middlebury School Corporation (Jefferson Elementary, Middlebury Elementary, Orchard View Elementary, and York Elementary), Northern Food Bank of Indiana (card making), Sleep In Heavenly Peace, Syracuse Food Pantry, The Window, and Westview School Corp.
Big Shoulders Fund Northwest Indiana announced a $500,000 grant from the Dean and Barbara White Family Foundation to build brand new playgrounds at five Northwest Indiana Catholic elementary schools. The grant will provide playgrounds for elementary school students at Aquinas Catholic Community School, St. Casimir School, St. John the Baptist Catholic School, St. John Bosco Catholic School and St. Stanislaus School – all Big Shoulders Fund schools within the Catholic Diocese of Gary.
Franciscan Health recently announced $450,000 in funding for community health improvement through its Social Impact Partnership Program. Fifty-seven non-profits located throughout Franciscan Health's Indiana service regions and south suburban Chicago were selected from applications to receive funding of up to $9,750 per organization. Receiving funds in the Hammond/Munster/Dyer area were: Boys & Girls Club of Greater Northwest Indiana, Girls on The Run of Northwest Indiana, Habitat for Humanity of Northwest Indiana, Hope Christian Church, Housing Opportunities, Indiana Parenting Institute Inc. (IPI), Indiana Women in Need (IWIN) Foundation, Mental Health of America of Lake County Inc., St. Michael's Wheelchair Ramp Ministry, The Food Bank of Northwest Indiana, The Jennifer S. Fallick Cancer Support Center, Top 20 Inc. and Women's Care Center. Receiving funds in the Michigan City area included: Catholic Charities of the Diocese of Gary Inc.; Citizens Concerned for the Homeless Inc.; Dunebrook Inc.; Healthy Communities of LaPorte County; Open Door Community Alliance Inc.; Stepping Stone Shelter for Women Inc. and The Salvation Army. Organizations in the Crown Point area receiving funds were: Catholic Charities of the Diocese of Gary Inc.; Hilltop Neighborhood House; Housing Opportunities; The Caring Place; The Community Help Network and Tradewinds Services Inc.
Mark Suedhoff, a long-time supporter of education and Fort Wayne native who never married or had children, as part of his estate planning, donated a $2.1 million endowed scholarship to the University of Saint Francis. Suedhoff earned a bachelor's degree in business from Indiana University, where he also pursued a master's degree in environmental sciences. He possessed a love for mathematics and analytics and became a skilled investor as an adult. Sudehoff's connection to USF is that he took a semester of nursing courses at the college. The Mark M. Suedhoff Scholarship will support students at the University of Saint Francis who demonstrate academic merit and/or financial need. Scholarships will start being awarded in 2023. Suedhoff died following a lengthy battle with cancer in 2018.
The office of U.S. Rep. Frank Mrvan announced a $600,000 federal grant award for Calumet College of St. Joseph under the Department of Education's Developing Hispanic-Serving Institutions program. The funds will create a model career pathway that will place students in high-demand, high-wage careers in health services by enhancing student support and increasing cultural-competency among faculty and staff. The program will provide health and holistic wellness services to students to increase resiliency and promote success in college and the workplace. The DHSI program provides grants to assist HSIs to expand educational opportunities for and improve the attainment of Hispanic students.
Other recent donations and philanthropic efforts in Northwest Indiana and the Michiana area can be found on our sister website nwindianabusiness.com.