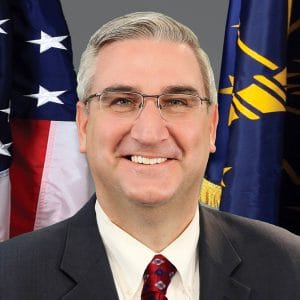 The office of Gov. Eric Holcomb announced the latest appointments to assorted state boards and commissions.
Governor's Workforce Cabinet
One reappointment; term ends Dec. 31, 2024.
Megan Glover (Zionsville), co-founder and CEO of 120WaterAudit
Four new appointments; three terms end Dec. 31, 2024.
Robert Coons (Terre Haute), president of Rose-Hulman Institute of Technology
Fred Payne (Indianapolis), president and CEO of the United Way of Central Indiana
Todd Richardson (Westfield), chief human resources officer and vice president for human resources at Indiana University
David Adams (Indianapolis), commissioner of the Department of Workforce Development; will serve at the pleasure of the governor
Indiana Education Savings Authority Board of Directors
Two reappointments; terms end Sept. 30, 2026.
Jay Collins (Indianapolis), consultant with Davis Homes
James Kennedy (Bloomington), associate VP for university student services & systems at Indiana University
Two new appointments; terms end Sept. 30, 2026.
Kate Arndt (Indianapolis), certified financial planner with Bedel Financial
Teresa Hess (Indianapolis), director of apprenticeship training & grants administration with Ivy Tech Community College
Indiana State Board of Nursing
One reappointment; term ends Sept. 30, 2026.
Jennifer Willis-Miller (Danville), emergency department, EMS services, and emergency preparedness director at Hendricks Regional Health
Three new appointments; terms end Sept. 30, 2026.
Sarah O'Brien (Indianapolis), public health nurse at Marion County Health Department
Nancy Juengst (North Vernon), LPN at Madison State Hospital
Jessica Harlan-York (Indianapolis), Chief Operating Officer for Division of Disability and Rehabilitative Services at Family & Social Services Administration
Statewide 911 Board
Three reappointments; terms end Sept. 30, 2025.
Terri Brooks (Wolcott), 911 director for White County Communications/E911
The Honorable Tracy Brown (Lafayette), Tippecanoe County Commissioner
Kevin McGuire (Batesville), VP of eastern operations at Great Plains Communications
One new appointment; term ends Sept. 30, 2025.
Angie Helminiak (Atlanta), principal consultant at AT&T FirstNet
These were recent state board and commission appointments announced by Holcomb, published by Northwest Indiana Business Magazine.