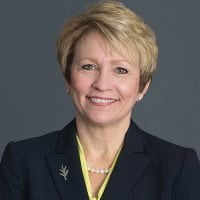 Ivy Tech Community College has launched a statewide campaign with a goal of raising $285 million.
The two-year campaign "Invest IN Ivy Tech," the college's first-ever across Indiana, is meant to strengthen its 19 campuses. A recent study released by the college found its cumulative annual impact throughout the state totaled $3.9 billion.
"Ivy Tech, Indiana's community college, plays an outsized role in upskilling Indiana's workforce and increasing Hoosier prosperity," said Sue Ellspermann, president of Ivy Tech Community College. "This campaign is largely a 'human capital' campaign ensuring we reach, educate, and serve all Hoosiers from first generation high school graduates to single parents and displaced workers allowing them to launch successful careers in high wage, high demand fields that will drive Indiana's future economy."
The college said the campaign "provides greater opportunity for each of (its) campuses to educate, train, and support its students. The funds raised through the campaign will benefit all of the campuses serving the 92 counties across Indiana. It reflects the college's strategic plan and each campus' strategic priorities, and will make a substantial difference for students, communities and the state."
Becky Miller, interim president of the Ivy Tech Foundation, said the campaign will be one of the most impactful statewide philanthropic efforts in the history of the college and the foundation.
The campaign is being co-chaired by Marianne Glick, Glick Art owner and chairwoman of the Eugene & Marilyn Glick Family Foundation and Bob Jones, retired chairman and CEO of Old National Bank. Ron Fauquher, former CEO and co-founder of Ontario Systems, is serving as the chief operating officer for the campaign.
"I believe that an investment in Ivy Tech is the most impactful on the future of our citizens, our communities, and our state," said Glick.
Ivy Tech said the campaign will conclude in 2023, which is the 60th anniversary year of the college.
Ivy Tech's Northwest and North Central Indiana campus locations include, East Chicago, Gary, Goshen, La Porte, Michigan City, South Bend and Valparaiso.