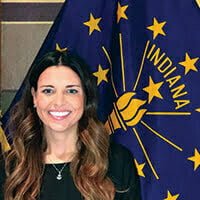 Blair Milo is stepping down from her state role as secretary of career connections and talent.
"It has been my honor to join Gov. (Eric) Holcomb's team and work alongside a host of public servants to connect Hoosiers to a sense of earned success and employers to the talent needed to grow," Milo said. "I am grateful for the opportunity to witness first-hand the opportunities for entrepreneurs in Indiana, and I'm excited to continue that work moving forward."
Her last day with the state is June 7.
Milo is launching the Center for Talent and Opportunity, a partnership with the Sagamore Institute, InnoPower, and the Minority Entrepreneurship Institute, which has a goal of closing the wealth gap for women and minorities through entrepreneurship, according to the governor's office.
"Communities across the state have been able to strategically focus on how to collaborate regionally to harness the talent of Hoosiers and make strides in connecting education institutions with employers working to grow so that the entire state flourishes, thanks to the commitment of Secretary Milo," Holcomb said. "I had a vision for connecting communities, growing regionalism, and sharing best practices, and she brought it to life."
Milo was named Indiana's first secretary of career connections and talent in 2017. Prior to that she served as mayor of La Porte.
Milo was first elected La Porte mayor in 2011 and reelected in 2015.
She has led the 21st Century Talent Regions initiative, resulting in 80 Indiana counties forming 14 regions to plan and implement strategies for attracting, developing, and connecting talent. She has also been instrumental in creating the Indiana Talent Network, which connects stakeholders statewide in sharing best practices for equitable talent policies and strategies.
Milo also served on the Governor's Workforce Cabinet and led outreach to local, regional, and statewide business and education leaders and communities across the state.
Earlier this year, the Office of Career Connections and Talent was integrated into the Indiana Economic Development Corp. to connect businesses and talent resources, including universities, education institutes, government agencies, as well community and education stakeholders, to make it as easy for employers to find talent, meet hiring goals, and implement training and development programs.