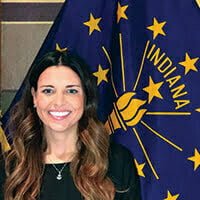 Blair Milo, former La Porte mayor and current secretary of the Indiana Office of Career Connections and Talent, is joining the Indiana Economic Development Corp.
In a Jan. 28 statement, the state said Milo's office will be integrated into the IEDC, in "a strategic alignment that will create a tool to bolster the state's business attraction and expansion efforts … positioning the state to provide direct support in talent retainment, recruitment, attraction, and development for growing businesses."
Milo will retain her title and remain a member of Gov. Eric Holcomb's cabinet. She and her team will soon transition to the IEDC.
"Over the past four years, Indiana has broken record after record for economic development as businesses across the state and around the world continue to choose the Hoosier state for growth," Holcomb said. "We have spent years building a pro-growth business climate that offers fiscal predictability, reduced red tape, competitive incentives and a skilled workforce, and now, with the leadership of Secretary Milo, we can offer businesses a custom solution to better access high-caliber talent and leverage training resources, ensuring job creators are best positioned to continue creating quality career opportunities for Hoosiers for years to come."
The state said Milo will connect businesses and talent resources, including universities, education institutes, government agencies and resources, as well as community and education stakeholders, to assist employers create talent pipelines.
"When we talk to businesses here and around the world about their expansion and attraction in and to Indiana, after we have shared our incredible Indiana economic value proposition, our conversations turn to availability of a quality workforce," said Jim Schellinger, Indiana Secretary of Commerce. "They want to know they'll have access to the skilled workers they need to grow and succeed and that they'll have support in developing a talent pipeline and connecting with education and talent partners."
The Indiana Office of Career Connections and Talent was established in 2017. It has focused on advancing talent attraction and retention in Indiana, increasing engagement with and amongst employers, educators, community and government to create a strategy for local talent development needs.
"Over the past three-plus years, we've made incredible progress in aligning state and regional partners toward a bold, systems-driven approach to attract, develop and connect Hoosier talent," Milo said. "This is a critical time for Indiana's businesses and for our talent community, and it's important, now more than ever, that we build on our successes and continue to advance new solutions in talent fulfillment."