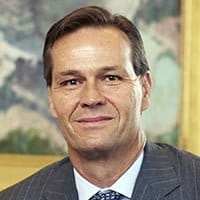 Indiana Commerce Secretary Brad Chambers has been appointed to the U.S. Investment Advisory Council.
He joins a group of 34 international business and economic leaders who will advise Gina Raimondo, U.S. secretary of commerce, on how government policies affect the country's ability to attract and facilitate foreign business investment.
"For the last decade, the U.S. has held the position as the number one destination for foreign direct investment (FDI) thanks to our incredible customer base, innovative culture, and world-class workforce," Raimondo said. "The (council) will play a vital role in providing recommendations on programs and policies to continue to attract and retain foreign investment in the United States."
The investment advisory council, which was first chartered in April 2016, serves as the principal advisory body to the secretary of commerce on the promotion and retention of foreign direct investment to the U.S.
Chambers looks forward to serving on the council.
"Collaboration is critical to continuing U.S. global leadership in direct foreign investment," he said. "I look forward to working with national partners and thought leaders to continue the current momentum and solidify the U.S. and Indiana as premier investment destinations."
The U.S. is home to more foreign direct investment than any other country in the world, with a total stock of FDI valued at approximately $5 trillion at the end of 2021, according to the latest data from the Bureau of Economic Analysis. FDI supports nearly 8 million jobs and was responsible for $397 billion in U.S. goods exports in 2019.
Indiana attracted $4.4 billion in new FDI year to date in 2022, the Commerce Department said.