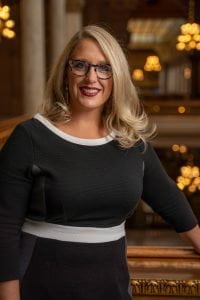 Katie Jenner already has a list of tasks to address as Indiana's first secretary of education.
Among her priorities will be to develop strategies to provide meaningful learning experiences for students during the pandemic, establishing a culture of lifelong learning among Indiana students, recruiting and retaining educators and finding best uses of state resources to be innovative to help educators be successful today and in the future.
Jenner, who has served as Gov. Eric Holcomb's senior education advisor the past year, on Nov. 19 was named to the role by Holcomb. Jenner also will serve as a member of Holcomb's cabinet.
"This is an incredibly important time for education in Indiana," Holcomb said.
He said Jenner has focused her entire career on investing in students, teachers, and staff, and she will continue to build the relationships needed to move Indiana forward in constructive ways.
"As Indiana's secretary of education, Dr. Jenner's certification, work at nearly every level of education and her remarkable depth of experience will lead our state into this exciting next chapter," Holcomb said.
Jenner has an extensive education background. Her first position in K-12 public education was in 2005 as a career and technical education teacher in Kentucky.
From 2009 to 2018, she worked for Madison Consolidated Schools in Indiana as a school administrator and district administrator. In 2018 she joined Ivy Tech Community College as vice president of K-12 Initiatives and statewide partnerships, where she built statewide college strategies among K-12 schools, career centers, and Ivy Tech.
Jenner earned her undergraduate degree from Transylvania University, her master's degree in education from the University of Kentucky, an MBA from Indiana State University and her doctorate of education from the University of Kentucky.
"I am grateful for the opportunity to further serve the people of Indiana," Jenner said. "My priorities are to ensure high quality education for all students and families, and to provide solution-focused support for our teachers and educational leaders."