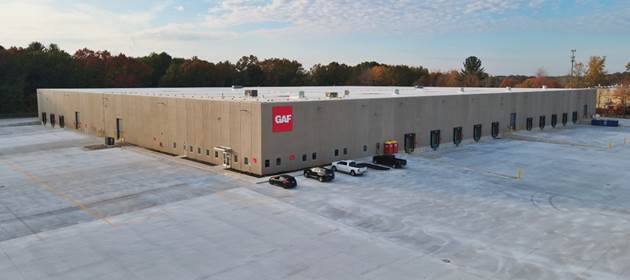 A recently completed 200,000 square-foot warehouse facility in Michigan City and currently occupied by roofing products maker GAF Materials Corp. has a new owner.
Dallas-based Mohr Capital recently announced it sold the building at 130 Tri Quad Drive to Four Springs Capital Trust, a real estate investment trust in Lake Como, New Jersey. The building took about nine months to complete and was made operational by GAF in December.
The building houses GAF's distribution services. The company, which employs 170 people, also has a shingle manufacturing plant in Michigan City at 505 N. Roeske Ave.
"Midwest industrial real estate is at a premium for both investors and corporate end users, especially for single-tenant, net-leased properties with mission-critical operations," said Gary Horn, chief development officer for Mohr Capital. "Four Springs approached us with an unsolicited offer (and) while we intended to hold the asset long term, the offer was compelling and has provided us the necessary capital to continue our investment and development efforts in the region."
This quick sale is a positive for the Northwest Indiana commercial real estate market.
"The entire industrial real estate sector is booming," Gary Horn said. "There are significant dollars chasing industrial – more dollars than product at this time (and) this, in turn, leads to very compelling prices … Our building was not on the market and the buyer's offer was unsolicited, further evidencing the demand in the market for this asset class."
Bob Mohr, chairman of Mohr Capital, said the pandemic ramped up demand for industrial space close to major shipping hubs.
"The sale of our Michigan City development is proof of that," Bob Mohr said. "We have several investments and development projects in the Midwest – including Mohr Logistics Park in Whiteland, Indiana – and we're excited about the opportunities this renewed interest in the region is bringing."