Roofing products maker GAF Materials Corp. is up and running in its new Michigan City distribution site.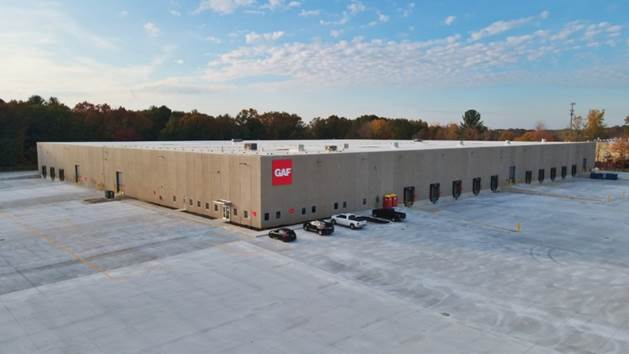 Mohr Capital, a Dallas-based privately held real estate investment firm, recently completed a 200,000-square-foot office and warehouse facility at 130 Tri Quad Drive for GAF Materials, which features 23 acres of concrete storage capacity. The building will serve GAF's distribution network for roofing products.
GAF, which also operates a shingle manufacturing plant in Michigan City at 505 N. Roeske Ave., is a subsidiary of Standard Industries, a global building materials firm. GAF employs 170 people in Michigan City.
"With this facility, GAF has expanded its presence in Michigan City and contributed to the strength of the local economy," said Gary Horn, chief investment officer at Mohr Capital. "Moreover, the completion of this project represents another successful partnership between Mohr Capital and GAF, adding to our growing industrial development portfolio."
The company's new Michigan City location will create up to 50 new jobs, according to Clarence Hulse, executive director of the Economic Development Corp. Michigan City, Ind. He said the new positions will start at $19 per hour.
Construction of the GAF facility began in January and was finished by the end of November. Hulse said the pandemic delayed a November ribbon cutting event but it will be rescheduled for the spring.
"We are excited about GAF's expansion and creating a new state-of-the-art facility in Michigan City," Hulse said. "They are one of our largest employers and have been a great community partner."
GAF Operations Director Matt Hannon and Chris Engibous, a senior process engineer at GAF, oversaw the construction project. Larson Danielson in La Porte was the general contractor and Bank of Texas provided financial support for the construction.
(Editor's note: This story was updated Dec. 21 with additional information.)