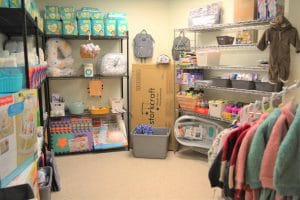 Franciscan Health's former Michigan City hospital site is again bustling with activity.
In early December, the health system's Prenatal Assistance Program opened its doors at 301 W. Homer St. to clients. Franciscan spent $20 million to demolish parts of the former hospital campus and renovate the remaining facilities to house a 14-bed behavioral health unit as well as the Franciscan Senior Health and Wellness Program for the All-inclusive Care for the Elderly (PACE).
Jodi Perrine, prenatal care coordinator, said the Prenatal Assistance Program provides prenatal and post-partum education and physician referral services to women. The program also assists clients work through Medicaid, WIC and SNAP. WIC, the supplemental nutrition program for women, infants and children, also leases space in the same building.
The Prenatal Assistance Program includes a BABE store incentive program at the Homer Street campus. Expectant mothers and parents are offered incentives to earn coupons through prenatal appointments and attending parenting classes.
"We follow them from prenatal, all the way through the child's first birthday," Perrine said. "We want to connect women to the care and services they need to ensure a healthy pregnancy, delivery and the best start for their baby."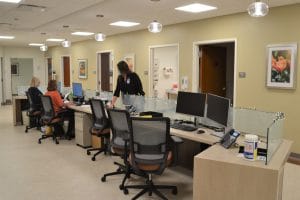 Franciscan Health Michigan City's PACE program launched Jan. 1 but began enrolling residents 55 and older from LaPorte County, most of Porter County and part of St. Joseph County around New Carlisle, prior to the opening.
The Michigan City PACE program is Franciscan's third in Indiana. Its other sites are in Dyer and Indianapolis.
Melissa DeSutter, center manager for Michigan City PACE, is ready to assist senior citizens and work with the community.
"We are there to support their healthcare journey every step of the way," she said. "From doctor's appointments to medication to equipment, supplies they may need in the home, transportation to healthcare appointments, any services that they may need, we coordinate those."
Dean Mazzoni, president and CEO of Franciscan Health Michigan City, said the behavioral health program moved to the Homer Street site in November.
"Relocating this service back to the Homer Street campus allows us to consider growing behavioral health services there in the future to address existing gaps in behavioral health care in our community," he said.
Mazzoni said relocating behavioral health back to Homer Street freed space in the new hospital on Franciscan Way to add a 22-bed medical/surgical unit to match the growth and demand for inpatient services at that site.
Franciscan Health's new $243 million hospital in Michigan City, which fronts I-94, opened in January 2019.