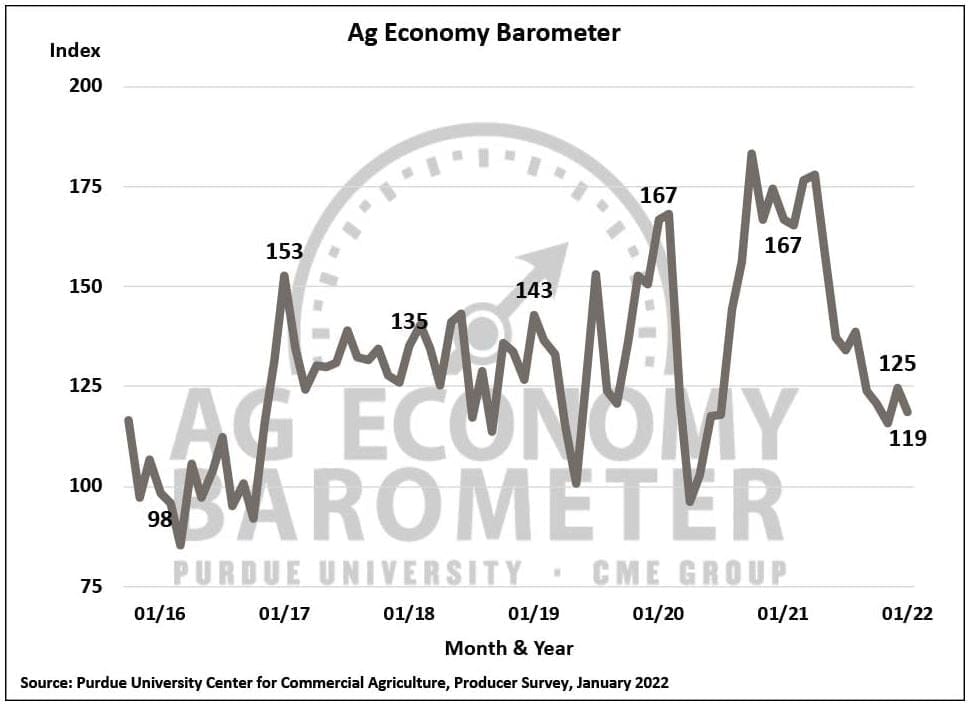 Farmer sentiment weakened in January as the Purdue University/CME Group Ag Economy Barometer fell 6 points to 119, its second-lowest reading since July 2020, researchers said.
The Index of Current Conditions fell 13 points to 133, while the Index of Future Expectations fell 2 points to 112.
Rising farm input costs and ongoing supply chain disruptions appear to be contributing to producers' weaker perception of current conditions and expectations of their farm's financial performance in 2022 when compared to last year, Purdue researchers said. The Ag Economy Barometer is calculated monthly from 400 U.S. agricultural producers' responses to a telephone survey, which was conducted between Jan. 17 and Jan. 21.
The Farm Financial Performance Index fell in January to 83, a 30% decline compared to a year earlier and 27% lower than in December. The financial index is generated based upon producers' responses to whether they expect their farm's current financial performance to be better than, worse than or about the same as the previous year.
In the December survey, producers were focused on comparing a very positive income year, 2021, to 2020, which really supported the index at year end.
In the January survey producers were asked to compare 2022 to 2021. The sharp drop in the financial performance index this month indicates producers expect a sharp decline in income in 2022 compared to 2021, researchers said.
Supply chain concerns extend beyond farm machinery and farm building/grain bin construction plans. Disruptions in the supply chain for many farm inputs, coupled with strong demand, are pushing production costs higher.
Fifty-seven percent of survey respondents in January said they expect farm input prices to rise by 20% or more in 2022 and 34% of producers said they expect prices to rise by 30% or more.