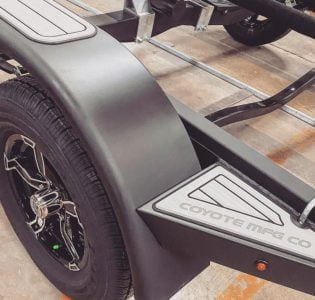 Patrick Industries is expanding its portfolio of businesses.
The diversified Elkhart-based manufacturer recently completed its purchase of Nashville, Georgia-based Coyote Mfg. Co., a designer, fabricator, and maker of steel and aluminum products, including boat trailers, towers, T-tops, leaning posts, and other custom components, primarily for the marine market.
"Coyote is a high-quality creative brand in the marine market known for its product innovation, customized style, and superior customer service," said Andy Nemeth, CEO of Patrick Industries. "Coyote's marine components complement Patrick's growing portfolio in the OEM market while offering the potential for expansion into other leisure lifestyle markets."
He said Patrick's partnership with Coyote will provide additional resources to help the company expand its reach in the marine products sector.
David Money, co-owner of Coyote, said he looks forward to being part of Patrick Industries and growing the company's geographic reach.
"Patrick's strategic resources and marine industry presence will add value to our team's ongoing commitment to excellence," he said.
Patrick Industries manufacturers an assortment of products for the RV, marine, manufactured housing and various industrial markets – including single and multi-family housing, hospitality, institutional and commercial markets. The company has more than 10,000 employees and 160 businesses across the U.S.