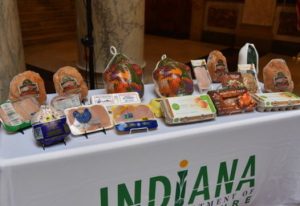 The state's poultry producers were honored by state officials Nov. 24 for assistance they provided to residents in need around Indiana.
During the 73rd annual Indiana State Poultry Donation event, Lt. Gov. Suzanne Crouch thanked industry representatives for their contributions totaling 450 tons or 900,000 pounds of poultry products the past year.
"Hardworking Hoosier farmers and agribusinesses take pride in growing and raising some of the most safe, nutritious and delicious food on our planet," Crouch said. "In addition, they also are generous with their goods and this donation proves they want to help their communities. This has been a difficult year and this gift will benefit others in need."
The strength of Indiana's poultry sector was also recognized. Indiana ranks as one of the top poultry producing states in the country.
According to the USDA National Agriculture Statistics Service, Indiana ranks first in duck production, second in egg production, and fourth in turkey production.
The state said the poultry industry contributes more than $12 billion in total economic activity and employs more than 12,000 Hoosiers.
"Indiana's poultry sector is a driving force in our state's agriculture industry," said ISDA Director Bruce Kettler. "When faced with this year's challenges, all levels of the poultry supply chain went above the call of duty to ensure Hoosiers had access to high quality products when they needed it most."
Indiana State Poultry Association members continually give back to their local communities throughout the year. Becky Joniskan, ISPA president, said during the past 12 months its members have contributed more than 7 million eggs and 200,000 pounds of meat and egg products to their communities.