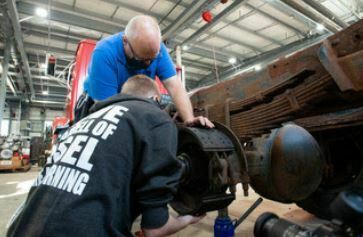 The Elkhart Area Career Center's Diesel Service Technology program now is a certified Indiana State Earn and Learn program.
Elkhart's diesel service technology program was established in 2015 in response from businesses to place students in internships. Students enrolled in the program gain valuable work experience while earning 37 college credits and a certificate in maintenance in light repair from Ivy Community College.
The students also earn 11 industry-valued ASE credentials.
Pete Lestinsky, diesel service technology program instructor, said the program benefits students and businesses.
"I have found that a student's development increases when they participate in an internship," he said. "A student will gain skills, knowledge and attitudes that cannot be duplicated in a classroom setting (and) by participating in the SEAL program, employers can obtain quality entry level employers in a tight pool of potential candidates."
Brandon Eakins, director of the Elkhart Area Career Center, said the program has given students a head start on their college education.
"As our region moves towards creating valuable work-based learning experiences for our high schoolers, the EACC is excited to be part of the solution," he said.
SEALs are Indiana's state-level apprenticeship type programs, designed to deliver work and learn experiences for participants as well as the skills and certifications employers seek.
State officials project Indiana employers will need to fill more than 1 million additional jobs in the next 10 years, half of which will not require a four-year college degree, but some type of certification or credential beyond a high school diploma.