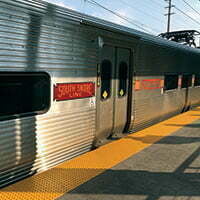 Michigan City is seeking a developer to create a mixed use, multi-modal hub, which will serve as an anchor point for the downtown.
The 11th Street Central Request for Proposals is a joint development authorized by the Federal Transit Administration and created through a partnership between Michigan City and the Northern Indiana Commuter Transportation District, operator of the South Shore Line.
The city is open to a range of ideas including a facility up to 10 floors in height. The 65,300 square-foot project site is the full city block bounded by Franklin, 10th, 11th and Pine Streets, with an easement into Pine Street which may allow site expansion, subject to city review.
The mixed-use hub will include 436 commuter parking spaces, a train station office and waiting area. The selected developer also will be required to restore the station's original historic façade as the entrance to the station.
Officials said in return for building, then operating the commuter parking spaces, the developer will have access to $16 million for related project costs.
The city seeks developers with experience and financial capacity to accommodate the project. Officials said completion of the development must coincide with the start of service to the 11th Street Station when the South Shore Line's Double Track Project is completed in May 2024.
Proposals are due Dec. 10 at 4 p.m. Additional information is available online.