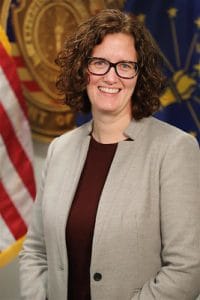 Christina Reagle was appointed new commissioner of the Indiana Department of Correction.
She takes over for Rob Carter, who resigned from the post after nearly six years in the role, according to a statement from the office of Gov. Eric Holcomb. Reagle's appointment begins Oct. 17.
"Since the start of my administration, Commissioner Carter has brought a wealth of management, public safety and security experience to the Indiana Department of Correction, helping the agency navigate the challenges we have faced, especially in recent years," Gov. Eric Holcomb said. "Day in and day out, Rob has remained focused on building a network of leaders statewide for IDOC facilities and implementing the best training programs for incarcerated individuals, which will have a ripple effect across the state in the years to come."
Carter was appointed IDOC commissioner in 2017. He is credited for increasing partnerships with businesses and organizations, such as The Last Mile and Ivy Tech Community College, to improve educational, job skills development, and training opportunities for incarcerated individuals.
Carter also worked with legislators to implement a new credit time system that incentivizes incarcerated individuals to focus on specific risk-reduction treatment and programs they need and will help ensure those with the most risk receive the most intensive rehabilitation resources.
Carter's last day as IDOC commissioner is Oct. 14. He will join Taft Stettinius & Hollister LLP Public Affairs Strategies Group.
Reagle, presently IDOC deputy commissioner of administration and finance, has been with IDOC since 2011. She was named a deputy commissioner in 2019.
Reagle oversees the finance, construction services, data analytics and technology divisions. She joined state government as an accountant for the Department of Child Services in 2011 and served as controller and chief financial officer for IDOC before becoming deputy commissioner.
"Christina has demonstrated that she understands the constant collaboration needed for success and has a deep understanding of the staff development, investment in technology and program development and planning that is needed for the success at IDOC," Holcomb said.
Reagle is a mentor for IDOC's Leadership Academy and its Women in Leadership training program. She earned her bachelor's degree from Indiana University Purdue University Indianapolis and a master's of business administration from Indiana State University.