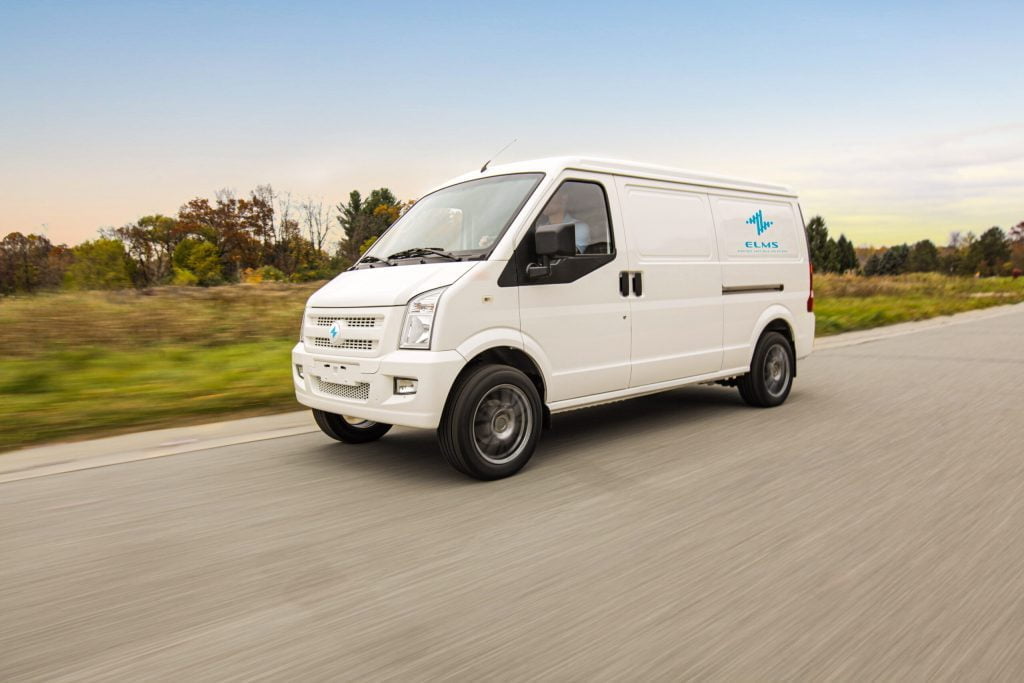 If all goes according to plan, a maker of an all-electric delivery van will start building its vehicles in the former AM General plant in Mishawaka by late 2021.
A Dec. 17 statement from the Indiana Economic Development Corp. said Auburn Hills, Michigan-based Electric Last Mile Inc., an electric vehicle company focused on commercial and delivery fleet vehicles, intends to set up shop in Indiana. The plan, however, is subject to its recently announced plan to merge with Forum Merger III Corp., to become a publicly listed company on the Nasdaq exchange and trade under the ticker "ELMS."
ELMS representatives expect the merger to close in early 2021.
The company plans to hire up to 140 people by the end of 2021, the state said. Positions will include production, engineering, and administration.
As ELMS ramps up production, it could employ as many as 960 people in Mishawaka by the end of 2024, the state said. There is much interest in the all-electric van, which already has 30,000 pre-orders, a company spokesperson said in an email to Northwest Indiana Business Magazine.
"Indiana was a natural choice for us given our product roadmap, the highly-trained and motivated workforce, and the logistics of moving finished goods within the U.S.," said Jim Taylor, co-founder and CEO of ELMS. "We couldn't be more pleased to launch our production operations in Indiana."
Taylor is familiar with the Mishawaka site for ELMS. As the former CEO of Hummer, he oversaw operations at the AM General plant when the company operated as part of General Motors.
ELMS said it will invest more than $300 million in the 675,500-square-foot facility at 12900 McKinley Highway. The site is expected to support the production and assembly of ELMS' electric Urban Delivery vehicle, with the capacity to manufacture up to 100,000 vehicles annually.
After a federal tax credit, an ELMS delivery van will cost $25,000, have a range of between 150 and 200 miles and feature 170 cubic feet of cargo space, according to the company.
"This project puts St. Joseph County on the forefront of the electrical transportation movement and continues our long history of being industry leaders in manufacturing," said Andrew Kostielney, president of the St. Joseph County Board of Commissioners.
Another electric vehicle maker, Seres Automotive, which originally launched as SF Motors, a subsidiary of Chinese automaker Sokon, announced in 2018 plans to produce its SF5 electric sport-utility vehicle at the former AM General site. Those plans reportedly stalled by summer 2019 after Sokon changed its focus because of the soft Chinese auto market and tariffs on Chinese-made products.
Seres had made some improvements to the Mishawaka plant. That investment made the building "an ideal facility for ELMS," an ELMS representative said.
ELMS will take possession of the Mishawaka plant after its merger with Forum Merger III Corp. closes, the company spokesperson said.
The IEDC offered ELMS up to $10 million in conditional tax credits and up to $200,000 in conditional training grants based on the company's job creation plans. The IEDC also offered up to $2.8 million in conditional tax credits from the Hoosier Business Investment tax credit program based on the company's planned capital investment in Indiana.
The state tax credits are performance-based, meaning the company is eligible to claim incentives once people are hired. St. Joseph County also is considering additional incentives at the request of the St. Joseph County Division of Economic Development.