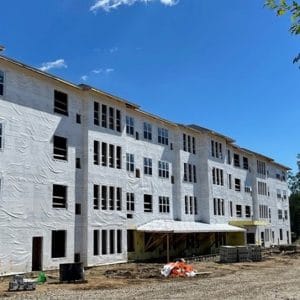 Chicago-based Evergreen Real Estate Group is nearing competition of a four-story, 120-unit assisted living community for low-income seniors in Goshen.
Evergreen Construction Company, a division of Evergreen Real Estate Group, is serving as general contractor on the project, which broke ground last October. Green Oaks of Goshen will be open to residents in early 2023.
The company is building a similar community in Valparaiso, which is expected to be completed in April.
The Goshen project is at 282 Johnston St., about a mile north of downtown Goshen, the $30 million project replaces a vacant three-acre lot on the city's north side, near an existing Salvation Army building and retail sites along Main Street.
The state-licensed community will be operated by Gardant Management Solutions, a Bourbonnais, Illinois-based firm that manages assisted living properties across the country.
"Leveraging the expertise of our integrated development and construction teams, we have been able to move quickly toward this construction milestone and remain on track to complete Green Oaks of Goshen in early 2023," said Steve Rappin, CEO of Evergreen Real Estate Group. "We are proud to be working with city officials and other project partners to expand housing options for area seniors, enabling them to remain within the Goshen community while receiving personalized care that will enhance their quality of life."
The company has completed the wood-frame structure, including the building enclosure and framing supports. Crews are now installing windows and façade finishes, including fiber cement siding and stone veneer, which will be followed by the installation of mechanical, electrical, plumbing and fire protection rough-ins.
Green Oaks of Goshen will offer 49 studio and 71 one-bedroom apartments, all of which will be reserved for seniors age 62 or older, with incomes at or below 80% of the Area Median Income.
Each residence will feature a kitchen with an electric range and all-in-one refrigerator/freezer/microwave combination appliance, as well as a full private bath with grab bars and a shower. On-site amenities at Green Oaks of Goshen will include a community room with kitchen, media and theater room, computer room, meeting room, fitness center, beauty salon, library, community garden and outdoor area featuring a pond, courtyard and pavilion.
The Indiana Housing and Community Development Authority authorized 4% Low Income Housing Tax Credits in support of the project. The city of Goshen issued tax exempt bonds that were sold by PiperSandler, providing debt financing.
Affordable Housing Partners invested in the project, providing Low-Income Housing Tax Credit equity.