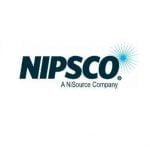 NIPSCO's plan to reduce its carbon emissions and get power to its customers more efficiently is entering a new phase.
The Merrillville-based utility recently announced it has started the second part of a multi-year project to upgrade sections of its electric transmission system as part of its overall Your Energy, Your Future initiative to retire all of its remaining coal-fired generating systems by 2028 and transition to lower-cost green sources.
The company said its plan should reduce its carbon emissions by more than 90% by 2028 and generate more than $4 billion in cost savings over time.
The work on the transmission project in La Porte County began in mid-November and is expected to last until May 2021. The work includes retiring 99 existing electric transmission lattice towers to upgrade and install 84 new steel monopole towers, and 12 miles of new electric transmission line within existing pathways and new energy conductors to provide greater capacity to the system and support future reliability.
Construction will take place in the existing rights-of-way between the Bosserman Electric Substation east to County Line Road.
NIPSCO will continue working with LaPorte County officials to minimize impact to customers in this area.
NIPSCO serves approximately 820,000 natural gas and 470,000 electric customers across 32 counties in northern Indiana.