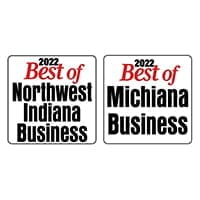 Northwest Indiana Business Magazine has revealed the 2022 Best of Business Awards winners.
Each year, the magazine surveys its readers by asking them to vote for the best businesses throughout Northwest Indiana and Michiana. The Best of Business Awards promote excellence in innovation, entrepreneurship and leadership in the business community.
Our readers have chosen the best! The honorees selected this year represent an array of companies, providing a variety of business services across Northwest Indiana and Greater South Bend and Michiana.
"Recognizing and supporting local businesses has always been important, but never more so than during this unprecedented time of disruption," said Troy Linker, publisher of Northwest Indiana Business Magazine.
Linker said honorees appreciate the recognition they receive for the products and services they provide.
"Business owners and their employees are appreciative of the recognition of their hard work to serve their clients," he said. "Northwest Indiana Business Magazine congratulates all 2022 Best of Business award recipients."
The complete list of winners can be viewed in the section of the Northwest Indiana Business Magazine website dedicated to the Best of Business awards.