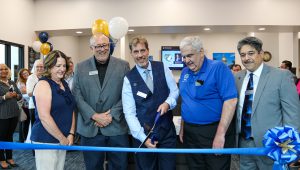 Notre Dame Federal Credit Union dedicated its new Northwest Indiana branch in Whiting with a ribbon cutting.
The event was organized in partnership with the Whiting-Robertsdale Chamber of Commerce. The recently opened branch is in the Illiana Building, 1200 119th St., Suite A, in Whiting.
"It is great to now call Whiting home," said Tom Gryp, Notre Dame FCU president and CEO, "Our Lake County membership continues to multiply because our products and services are built to meet the needs of our member-owners, not stockholders."
John Wilkening, Notre Dame FCU chief retail officer and Northwest Indiana market president, said as a Lake County resident and Whiting High School graduate, it was important to staff the business with locally based staff.
"The mission of Notre Dame FCU is to help and financially empower people, and that is what we plan to do," he said.
During the ribbon cutting, Notre Dame FCU Branch Manager Enrique Magallanes presented the Whiting chamber with a sponsorship check for $10,000 for the 2021 Pierogi Festival.
"As a financial cooperative owned by our members, we believe in reinvesting our profits to support the local initiatives our member-owners believe in," Magallanes said.