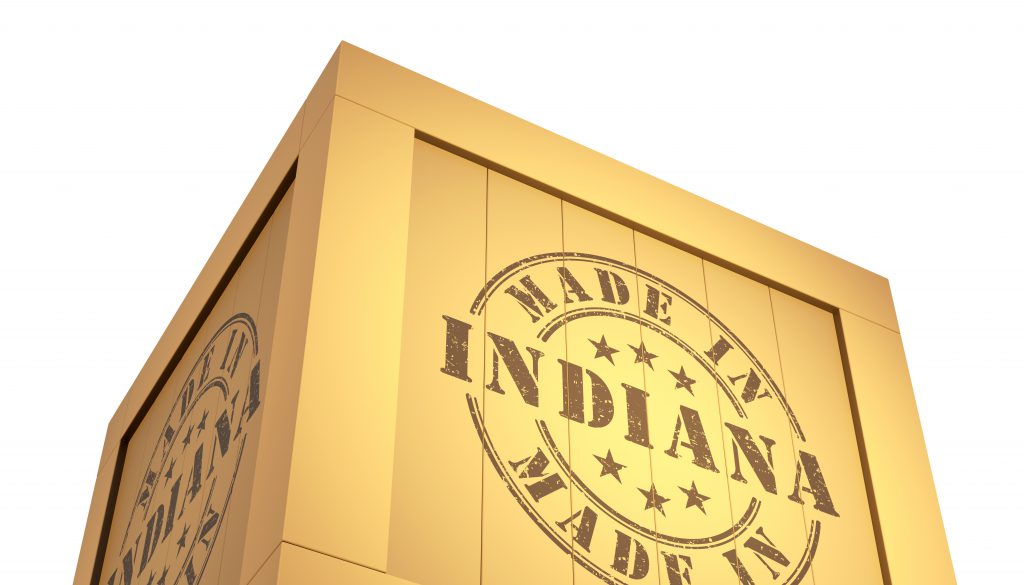 Several manufacturers from across Northern Indiana are receiving a share of $1.5 million in state grants meant to encourage investment and drive growth in the sector.
The Indiana Economic Development Corp., in partnership with Conexus Indiana, recently announced the third round of manufacturing readiness grant awards totaling about $1.5 million to 31 businesses.   
"As a state, it's critical that we support manufacturers as they modernize their operations and efficiencies to succeed in today's 21st century economy," said Gov. Eric Holcomb. "Like many industries, this sector has faced unprecedented challenges this year, yet these Hoosiers are pushing full steam ahead."
The recipients represent 21 counties and cover a range of specialties, including automotive, aerospace and defense, agriculture, machinery and construction, consumer packaging products, and health care and medical. The state said cumulatively, the businesses plan to invest more than $15 million in technology and equipment to position their businesses for future growth by increasing capacity and modernizing operations.
The state said five recipients are accelerating operational investments in health care manufacturing or preparedness technology to support pandemic response efforts.
Northern Indiana recipients include:
Aero Machine & Manufacturing LLC (Porter County; $40,000 grant award), in Valparaiso. The company is installing a new HAAS CNC Lathe with live tooling that incorporates technology into its centralized data system, allowing it to integrate with new or existing Industry 4.0 environments.
Ameri-Can Engineering (Marshall County; $26,852 grant award) manufactures portable sanitation trailers in Argos. The third-generation, family-managed company is modernizing equipment and processes to improve production efficiencies.
Culver Tool and Engineering Inc. (CTE Solutions) (Marshall County; $79,455 grant award), founded in 1950 and located in Plymouth, manufactures orthopedic implants and instruments for spinal surgeries. The company is updating its forming and deburring processes with custom-built equipment, while upskilling employees.
EarthWay Products (Elkhart County; $100,000 grant award), family owned in Bristol since 1955, manufactures lawn and garden equipment for turf scientists, landscape professionals and homeowners. The company is automating a production line of spreader / seeders with to replace highly repetitive work and improve capacity by 30%.
ETI Controls Inc. (St. Joseph County; $60,000 grant award), which was founded in 2019 as part of the ETI Network, manufactures electronic controllers and sensors for various applications including heat tracing that monitors temperature, humidity and pressurization. Based in South Bend, the company is investing in automated production and inspection equipment for printed circuit boards (PCB) to become further insular to meet stringent quality and delivery demands.
Konrady Plastics (Porter County; $45,000 grant award) manufactures and distributes machined plastic parts, including plastic sheet, rod and tube. Founded in 1981 and based in Portage, the family-owned business is investing in automation to pair with an existing HAAS lathe to enhance operations and position the company for future innovation.
Micro Etch Technologies LLC (Elkhart County; $75,000 grant award) manufactures small, thin gauge metal components for electronics, medical, aerospace and other industries. Founded in 1988 in Elkhart, the company is upgrading its manufacturing technology and capabilities with investments in a digital microscope, digital CMM and chemical etching system.
TouchTronics Inc. (Elkhart County; $50,000 grant award), based in Elkhart for more than 35 years, manufactures wireless and Bluetooth controllers and monitoring solutions for the commercial truck, RV, marine and public safety industries. This woman-owned business is investing in automated equipment to manufacture and assemble circuit boards, wire harnesses and injection-molded parts to enhance quality, efficiency, speed, and product performance.
Viewrail / Stair Supplies (Iron Baluster Inc.) (Elkhart County; $20,000 grant award) manufactures premium stair parts for homeowners, builders, and contractors. Based in Goshen since 2004, the company is developing an automated powder coat line to transition from batch to continuous flow as part of an overall automation effort.
The IEDC initially made $4 million available for Indiana Manufacturing Readiness Grants but expanded it with CARES Act funding. The awards are issued as matching grants up to or equal to the amount of the qualified investment in new equipment and machinery.
The state said while the allocated program funding was exceeded, Conexus, with the input of a peer review panel, will continue to assess applications and make funding recommendations to the IEDC, which will fund select applications if and when additional funding becomes available.
Other recipients included:
Batesville Products Inc., Dearborn County; $50,000 grant award
Circle, Marion County; $20,000 grant award
Contract Industrial Tooling Inc., Wayne County; $37,261 grant award
DeKALB Molded Plastics, DeKalb County; $20,000 grant award
DQE Inc., Monroe County; $133,648 grant award
FosTecH Inc., Jackson County; $44,222 grant award
Hubner Industries LLC, Warren County; $28,000 grant award
Jasper Engines and Transmissions, Dubois County; $50,000 grant award
Koester Metals Inc., Steuben County; $20,000 grant award
Lucas Oil Products Inc., Harrison County; $100,000 grant award
Marion Manufacturing, Vigo County; $79,717 grant award
Meyer Plastics Inc., Marion County; $12,385 grant award
Moore Metal Works & A/C LLC, Vanderburgh County; $100,000 grant award
Nix Companies, Gibson County; $25,000 grant award
POLARIS Laboratories LLC, Marion County; $50,000 grant award
Poolguard, Jennings County; $56,250 grant award
Primex Design and Fabrication, Wayne County, $20,000 grant award
Red Gold Inc., Madison County; $10,100 grant award
SoChatti, Marion County; $24,000 grant award
Spencer Industries Incorporated, Spencer County, $19,000 grant award
Telamon Corporation, Hamilton County; $64,250 grant award
Universal Technologies LLC, Dubois County; $39,500 grant award
The state awarded $3 million to 31 businesses through the program in November and in August, nearly $2 million was distributed to 20 businesses. Additional information on the latest grant recipients is available on the IEDC's website.