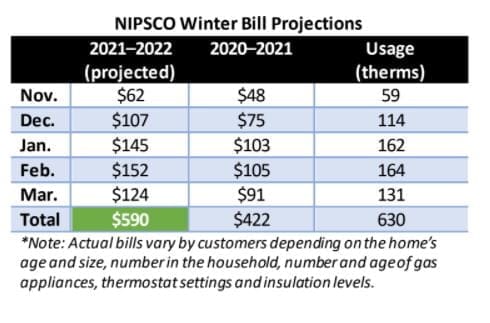 NIPSCO says its customers should be prepared for higher heating bills this winter when compared to last year.
The Merrillville-based utility said current market price projections for natural gas and assuming normal winter weather, NIPSCO residential natural gas customers can expect heating costs between November and March to total $590, a nearly 40% increase from $422 when compared to the same time frame a year ago.
NIPSCO said it along with other Indiana energy companies provide a forecast for home heating for the upcoming winter. Projections take into account market forecasts, supply trends and storage levels, and are based on normal weather projections.
If temperatures are colder or warmer than normal, usage amounts and bills could differ, the utility said.
There are two primary components of natural gas bills – the cost of the natural gas itself and the cost of delivering the natural gas to customers. NIPSCO purchases gas on the open market like other utilities.
The utility said to ensure its customers receive the best price for natural gas, NIPSCO buys gas from a variety of supply sources throughout the year. Gas storage is also used to help offset market price volatility.
NIPSCO said natural gas market prices are 92% higher than a year ago. and U.S. storage balances are behind last year's total and the five-year average storage balance at this time of year.
NIPSCO offers assistance to customers who may need help paying for utility costs. Additional information is available online at nipsco.com/assistance.
NIPSCO, a subsidiary of NiSource, serves approximately 850,000 natural gas and 480,000 electric customers across 32 counties in northern Indiana.